Mirroring Pride Month events nationwide, celebrations on St. Thomas this weekend took on a more serious tone as both speakers and participants stressed the importance of inclusion in the wake of Friday's U.S. Supreme Court decision to overturn Roe v. Wade, which granted federal protections for abortion.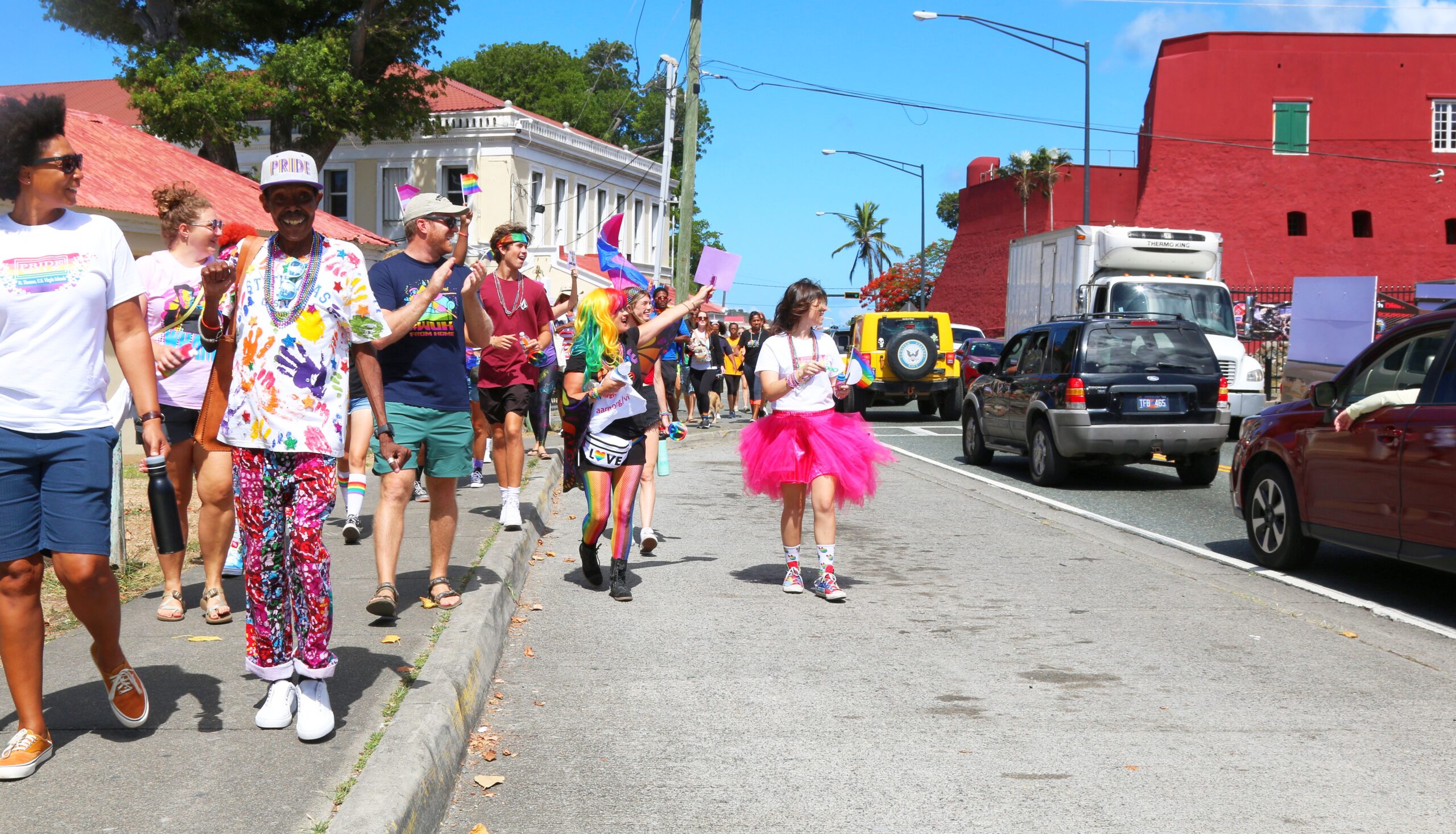 "What is happening in the Supreme Court is nothing less than terrifying, and it reminds all of us that we must exercise our right to vote. We must exercise our vote in talking about what is wrong – we cannot take anything for granted," Gov. Albert Bryan Jr. said during Saturday's Pride Walk rally in Emancipation Garden. "We have to take a minute and concentrate to make sure that the rights of individuals, of families, and all of our civil rights are protected."
Representing Delegate Stacey Plaskett, LuAnne Hodge spoke about support in the U.S. House for the Equality Act – which ultimately failed to pass in the Senate – and the John Lewis Every Child Deserves a Family Act, which would prohibit federally-funded child welfare service providers from discriminating against children, families, and individuals because of their religion, sex (including sexual orientation, gender identity, and intersex traits), and marital status. While these efforts are a step in the right direction, the fight continues, Hodge said, especially in light "of the recent attacks on civil rights."
Pride events each year are both a reminder of how far the nation – and world – has come in terms of advancing LGBTQIA+ rights and freedoms but also a reminder of where the fight started, added Pride Walk organizer Muria Nisbett. Marches across the nation each year commemorate protests that broke out after police raided a gay bar at the Stonewall Inn in New York City on June 28, 1969.
"Pride is a celebration, but it's a time of remembrance for those in our community who have lost, whose lives have been taken, and who have taken their lives because of hate, violence, and not being accepted," Nisbett said as she led the crowd at Emancipation Garden in a moment of silence.
The walk to Yacht Haven Grande started moments later, with Nisbett adding a few words of inspiration for the LGBTQIA+ participants who lined up with flags and signs.
"We want you to know that you are seen, you are loved, and you are not alone," she said. "We want to let members of the LGBTQ community that we can walk in solidarity with other members of the community – we can coexist in peace, in love, and in harmony."
Saturday's Pride Walk was also sponsored by AARP Virgin Islands, while a Coming Out Brunch afterward was hosted at Barefoot Buddha, where St. Thomas Pride Committee organizers Michele Weichman and Chuniqua George shared their own journeys in life and love. For those struggling with their identities, it's important to be able to reach out to someone who can not only empathize but also offer a hand in support, they said.
"We throw these events because of representation," George said. "If I had more representation when I was a child, it would have been something I could have discovered and embraced sooner."