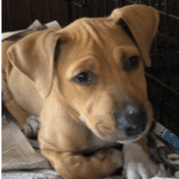 The Humane Society of St. Thomas (HSSTT) is inviting the community to help it celebrate National Rescue Dog Day on Sunday, May 22, at the Humane Society Campus. One of the best ways to celebrate is by adopting or fostering a rescue dog.
You will be providing a safe forever home for an animal in need of a second chance, and in return, you will receive unconditional love.
Come and shower these dogs with much needed attention; take them for a long walk or play a game of fetch in the newly opened Paws to Play Dog Park.
Help feed and water them when taking them back to the kennels and know that your companionship is a game changer for these abandoned pets.
It is important to remember that dogs end up in shelters as a result of a move, deployment, divorce … not for anything they did wrong. and they are well acclimated to life with a family and ready to love again.
Take advantage of special discounted adoption fees for this day ($25 for dogs six months or older) and meet some of our older well behaved senior dogs. Of course, puppies and kittens galore will be there to delight and brighten up your day.
Thanks to a sponsor, Globally Clean, everyone adopting will receive a complimentary customized dog ID tag from VIP Pet supply. Miscellaneous pet items will also be on sale at the various booths. The Humane Society also thanks Tito's which will be providing refreshments for this event. All proceeds benefit the animals in our care.
The society's events are meant to empower the community to do the right thing for our companion animals, Stop the uncontrolled breeding. If you are taking care of a community cat colony spay and neuter; this service is free.
Likewise, if the society can assist in covering the cost of surgery for your own pet, please reach out to us: we are here to help. Working together, we can empty our cages!
HSSTT's board members and volunteers will be on hand to sign up new members for the general membership, discuss volunteer opportunities, answer questions on pet care, and provide handouts on spaying and neutering and the need for heartworm prevention.
For more information, call the Humane Society event organizer at 626-8560.