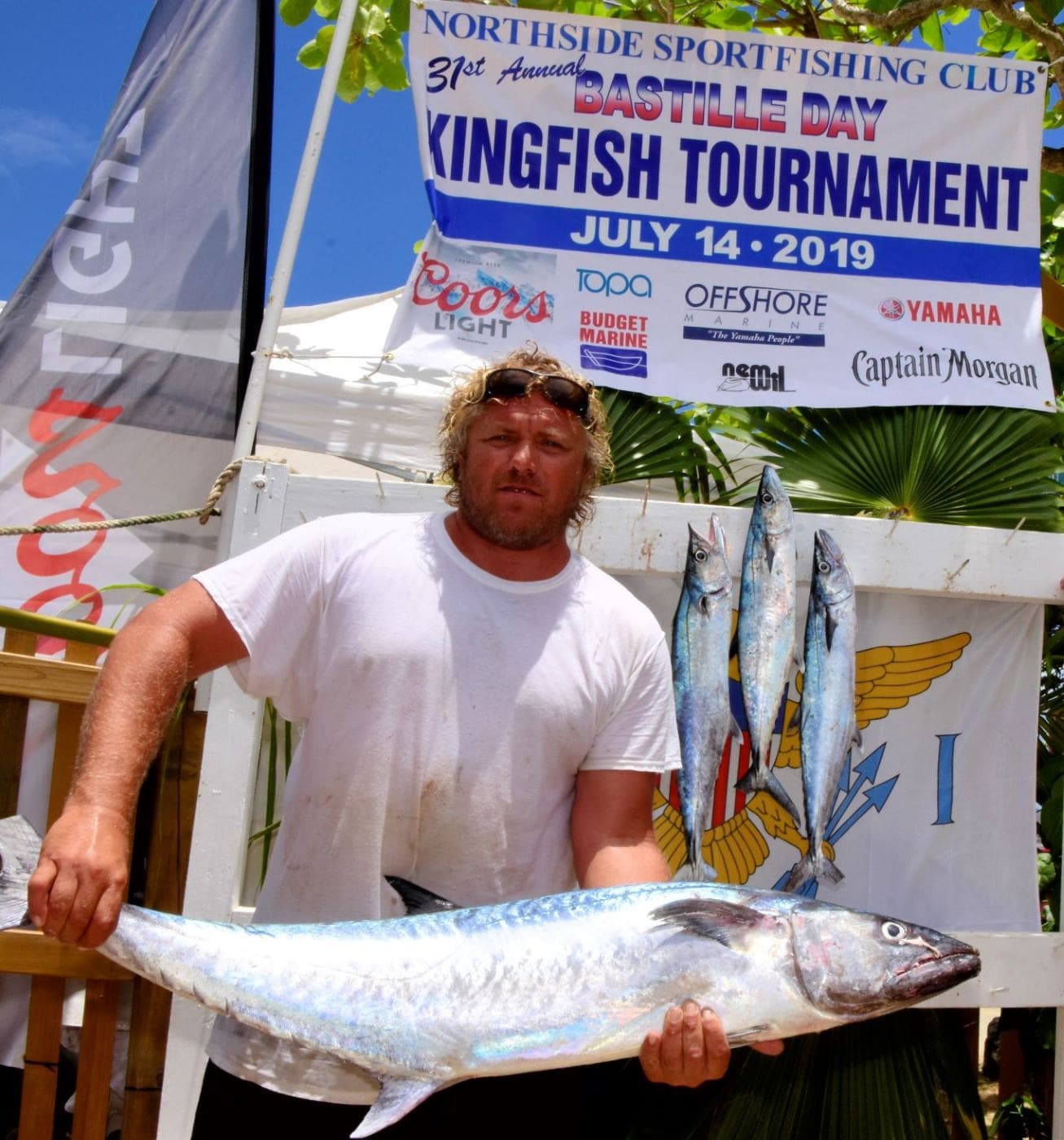 The 2022 Bastille Day Kingfish Tournament will take place on Sunday, July 10, 2022, at Hull Bay Hideaway, according to the Northside Sportfishing Club.
"After a two-year hiatus, we look forward to hosting the tournament again this summer albeit in a smaller low-key way as we emerge from the global pandemic. The focus, as always, will be on fishing. Yet, the fun will certainly be there too from the Weigh-In to Awards Ceremony. We invite anglers who have fished with us for many years, newcomers, residents, and visitors alike to try their luck catching a whopper kingfish," said Catherine Bryan, one of the tournament co-directors.
Registration will start Tuesday, July 5 at Neptune Fishing Supply in Red Hook, St. Thomas. Registration continues at the Captain's Meeting on July 8th at 7:30 p.m. at Hull Bay Hideaway and on Saturday, July 9th at the same location from Noon until 6 p.m.
The fishing starts at 5:30 a.m. and ends at Noon, sharp on Sunday, July 10, when the Weigh-In begins at Hull Bay Hideaway. The Awards Ceremony starts earlier this year at 6 p.m. Also, please plan to carpool. More parking and shuttle information will be available soon on the tournament's Facebook page.
First organized by the Club in 1987, the tournament in 2019 attracted 168 anglers, including 30 junior anglers, aboard 55 boats. Matthew Bryan, of St. Thomas, reeled in the largest Kingfish, a 43.45-pounder, aboard the 36-foot Feel Good I. There are a dozen more prize categories that include Best Boat, Best Captain, Best Male, Best Female, Best Junior Male, Best Junior Female, and other fish species such as Largest Barracuda, Bonito, and Mack. Proceeds from the Bastille Day Kingfish Tournament this year will benefit the Joseph Sibilly School, Nana Baby Children's Home, St. Thomas Rescue, and the St. Thomas Civil Air Patrol, as well as provide college scholarships.
St. Thomas was named one of the Top 10 Destinations in the World to celebrate Bastille Day, by online travel advisor, Hotwire.com, in part for its annual Bastille Day Kingfish Tournament. In 2019, National Geographic magazine highlighted the Virgin Islands' tournament in its article, "9 Bastille Day bashes that celebrate French culture."
As well as being a day of fishing and fun for the whole family, the Northside Sport Fishing Club via its Annual Bastille Day Kingfish Tournament has donated over $200,000 to community organizations since the event's inception.
For more information, call (340) 998-0854. Or check us out on Facebook @ Northside Sportfishing Club