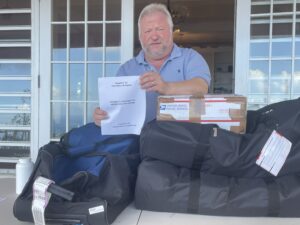 Why is this Passover not different from all other Passovers?
Because this month, while Jews throughout the world prepare to commemorate their forebearers' flight from bondage thousands of years ago, another people are being driven from their homes by a cruelty that reeks of genocidal hatred.
For Michael Feshbach, rabbi of the St. Thomas Hebrew Congregation, the Passover themes of "Liberation" and "Redemption" ring especially true now as millions of Ukrainians have become refugees because of Russia's invasion of their homeland.
That's why he is joining a group of about 25 Reform and progressive rabbis and cantors who are heading to Krakow, Poland, this weekend, bringing supplies, money and hope to a small segment of those who have been displaced by the war.
On the mission are rabbis from North America, Israel and Europe, he said. The trip is supported by the Central Conference of American Rabbis, the World Union for Progressive Judaism, and the Israel Movement for Progressive Judaism.
It is also supported by a wide swarth of the U.S. Virgin Islands community, both within and without the St. Thomas Synagogue.
Feshbach will be traveling with just one suitcase for himself and with four duffle bags crammed full of such practical items as toothpaste, clothing, and baby food. He said several local doctors and dentists have donated medicines and business people and attorneys have given other supplies. There have also been generous cash donations.
"We have had, as far as I know, universal support," within the congregation and the wider USVI community, he said.
Remembering how donations arrived for Virgin Islanders following the devasting 2017 hurricanes, he said, "We got back on our feet with support from all over the world." Now it's our turn to help.
Collectively, the group going to Poland will be transporting 3,000 pounds of supplies and about $500,000 in donations, Feshbach said. The rabbis are coordinating with a Jewish religious group in Krakow that sponsors a number of programs addressing various needs, including housing, food, medical services, and trauma support.
Poland has taken in roughly 2.5 million of its neighbors. Another 2 million Ukrainians have fled to other countries. But high as those numbers are, Feshbach said they don't tell the whole story, because many millions more are still in Ukraine, homeless and displaced by bombs and other destructive forces.
"One in four Ukrainians have left their homes," he said. "Many of them hope to go back, but there is nothing for some to go back to."
The rabbi has supported other international humanitarian causes, including opposing genocide in Darfur and helping resettle a Syrian refugee family, but the current mission holds personal meaning, he said. His father's family emigrated to the U.S. in the early 1900s from Khotin, in Ukraine. And his father was a noted author and expert on Russia and the USSR.
Feshbach said only a cause as important as the present one would induce him to leave St. Thomas just as the synagogue is preparing to celebrate Passover with the first in-person Seder it has been able to hold since Covid restrictions were imposed in 2020. But he plans to return on April 14, just in time for the celebration.
To donate to the Ukraine mission, call the synagogue at 340-774-4312 or go to smile.amazon.com and designate your donation as for "Friends of JCC Krakow."