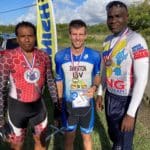 After several weeks of delay due to weather and COVID precautions, the Virgin Islands Cycling Federation (VICF) was finally able to kick off its racing season with a 9-mile individual time trial on Sunday morning.
The season-opener event brought out 24 cyclists ranging from newcomers to established cyclists, teenagers to veterans and recreational riders to competitive elite cyclists. In cycling, the individual time trial is a race where each cyclist is racing the clock instead of riding side-by-side in a group of riders. Each cyclist is sent off from the starting line at one-minute intervals.
The start of Sunday's race was held in front of the Divi Hotel and the finish line was marked at the entrance gates to Ha' penny Beach on St. Croix's south side.
Stephen Swanton, a well-known Elite cyclist, was the fastest overall in a time of 23:03.  In a close time finish, Glenn Massiah was second in 23:08, while David Parris was third in 23:18.
Other top finishers in their respective categories were Jerry Remie (Expert), Kevin Williams (Sport), Alvin Thomas (Masters) and Catherine Seguin (Women).
The next race on the VICF schedule will be the Triple Bypass Road Race on March 20.
For more information on cycling in the Virgin Islands, call 643-6420.