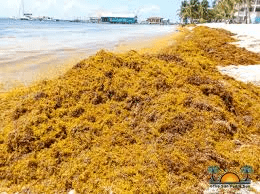 Congresswoman Stacey E. Plaskett releases the following statement regarding a $301,522 grant from the National Oceanic and Atmospheric Administration (NOAA) to the University of Rhode Island and the Woods Hole Oceanographic Institution to continue to assess the societal impacts of harmful macroalgal blooms, specifically sargassum, in the Caribbean.
"I am pleased to announce that NOAA has awarded a grant totaling $301,522 through the National Centers for Coastal Ocean Science (NCCOS) and U.S. Integrated Ocean Observing System (IOOS) to continue research of harmful algal blooms in the Caribbean.
"The frequency and magnitude of sargassum blooms continue to increase. This funding will support research to examine how sargassum blooms impact multiple dimensions of social resilience, including economic impacts and human wellbeing in the Virgin Islands.
"This funding provided by NOAA will benefit the Virgin Islands tremendously by providing multi-faceted, tangible information about the impact of harmful algal blooms."