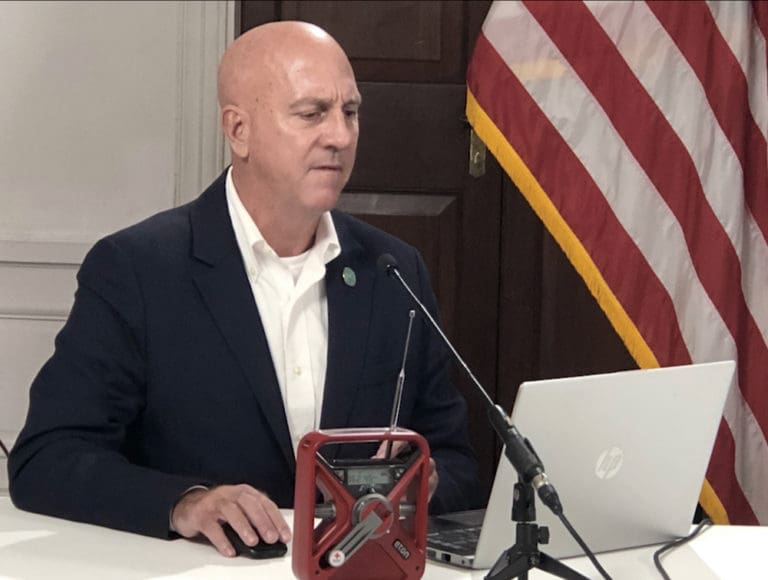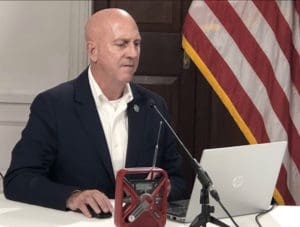 The U.S. Virgin Islands had 190 active cases of COVID-19 as of Monday afternoon, and the numbers are tilting towards younger people, according to Dr. Esther Ellis, the territory's epidemiologist.
Speaking Monday at Government House's weekly news update, Ellis said St. Croix had 139 active cases, and recent new cases are predominately young people.
"Last week the majority of our cases were in the 0-17 age group," she said.
There are 46 active cases on St. Thomas and St. John had five as of Monday.
There have been 71 deaths in the U.S. Virgin Islands. There were three patients in the Juan Luis Hospital and one of those was on a ventilator, Ellis said. Two people were hospitalized at the Schneider Regional Medical Center, with one vented patient.
Because the territory is barely half vaccinated, Ellis and Richard Motta, Gov. Albert Bryan Jr.'s communications director, stressed the importance of taking a shot.
A third shot of the Pfizer or Moderna vaccines for COVID-19 are being given to people who are immune-compromised, Ellis said, emphasizing that is not the same as a booster.
Ellis said the third shots are only for those with weakened immune systems, with a doctor's note, and the boosters are for those adults over the age of 65 who received two shots six months ago – and other individuals specified by the government.
According to Dr. Emily Landon, epidemiologist at the University of Chicago Medicine, after two shots people are offered booster doses to pump their immune response back to previous levels. Third shots are for people who received two doses but have weaker immune systems and didn't have a good response.
Ellis and Motta again stressed the importance of getting vaccinated, touting the government's carrots – $250 gift cards for taking a one-dose shot or both Pfizer or Moderna shots between Aug. 9 and Sept. 30. Healthcare workers and educators have until Oct. 1 to register for $25,000 lotteries.
Keeping an eye on hurricane season
At the beginning of the news conference, V.I. Territorial Emergency Management Agency Director Daryl Jaschen updated the progress of Hurricane Sam, which as of Monday morning was rated a Category 3 storm. No warnings or watches have been issued for Sam, which at its closest pass is expected to be more than 300 miles northeast of the territory. According to Jaschen, Sam has only a three percent chance of impacting the USVI. The storm should pass well north of St. Thomas and St. John Wednesday night.
However, two more tropical waves were exiting Africa before beginning the journey west across the Atlantic. Each system has an 80 percent chance of developing into "tropical cyclones" within five days.
"We need to stay continually vigilant of these tropical waves," he said.
Jaschen added that representatives from FEMA are in the territory in case emergency action is needed due to the weather.
Motta said the governor plans to enforce President Joe Biden's executive order to mandate COVID vaccinations for all federal workers and contractors and companies who employ 100 or more employees. He also announced Bryan has imposed and extended some of his own executive orders. The eviction moratorium has been extended, from July 30 to Dec. 31 and vehicle inspections have been suspended until March 2022.
The governor also has prohibited contact sports, mandating training sessions instead of games or group contact. Players of other sports are not affected.
In other news, Motta said the V.I. Department of Labor is offering classes in workforce development and the governor will host a workforce development conference Oct. 6, 7, and 8 on St. Croix, St. Thomas and St. John, respectively.
Motta also said Bryan signed the 2022-23 budget and a supplemental budget for 2021. Frederiksted will receive $350,000 for street lights and $1.5 million for the waterfront repairs. One and a half million dollars is being set aside for work on the Melvin Evans Highway and $1 million will be used to pay the National Guard for work during the 2017 hurricanes. Additionally, the Government Employees' Retirement System will receive $10 million in employer contributions.