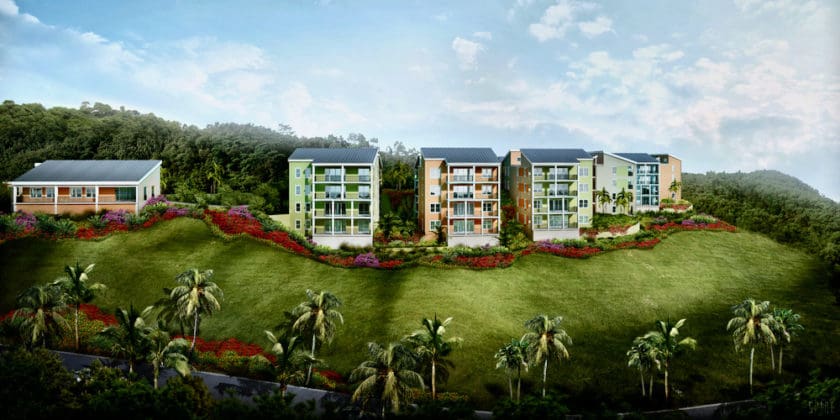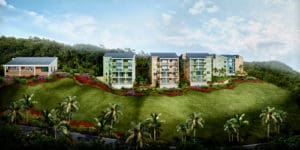 The V.I. Port Authority Board voted unanimously to have Executive Director Carlton Dowe proceed into contract negotiations with The Benoit Group, LLC in Wednesday's monthly board meeting. The negotiations are for the leasing of parcel 68A Estate Lindbergh Bay, commonly known as "Thatch Farm," on St. Thomas to develop and manage an affordable housing community.
Currently, Thatch Farm is about 4.6 acres with an appraised value of $288,000 and consists of 10 one- and two-story existing frame and masonry buildings, Port Authority documents say. If approved, The Benoit Group, LLC and the development team propose to demolish the existing structures. In their place, they plan to build three four-story buildings with a projected total of 109 affordable units. The three buildings will consist of one- and two-bedroom units and have 101 parking spaces. The Benoit Group, LLC proposal says the site is designed to meet all environmentally sound land development standards and protection of existing land and vegetation.
Board member Lionel Jacobs questioned if it is too early to assume the housing will strictly be for independent senior citizens, as the Benoit Group proposal states.
"It's a combination of both senior citizens and regular affordable housing," said Davis.
Earlier in the year, the authority invited proposals from experienced and qualified development firms, or any persons interested in leasing Thatch Farm to develop and manage an affordable to moderate-income housing community for U.S. Virgin Islands residents.
The Benoit Group of Atlanta, Georgia submitted their request in February 2021. The Port Authority's procurement and contract manager, Kate Davis, said that the evaluation committee met prior to the board meeting to evaluate the response and voted to proceed to negotiations with Benoit since they were the only respondent. She said the intent is to enter a long-term lease with The Benoit Group to develop the land to meet its highest and best use.
Benoit Group President Eddy Benoit Jr. said in his letter to the V.I. Port Authority that the "company is comprised of a commercial development group and a real estate consulting firm. They have over two decades of experience in the commercial development industry totaling over $1.8 billion in project value."
Davis said The Benoit Group is currently on St. Thomas and said they are ready and prepared to answer any questions that the board may have.
Board member Willard John asked if the company said how much money was invested.
Davis said, "Rather than asking during the evaluation, we decided during the negotiations with them we will cover that."
The Benoit Group proposal projects that, if approved, demolition could begin in October 2022, and construction could start in October 2023, with a construction completion date of March 2024.
"In our conceptual plan, we believe the project must present a rich communal environment that celebrates the moments of arrival, the transition from collective activity to privacy, and the discovery of common interest and chance encounters. Then encouragement of social interaction and sense of place is achieved in each phase through architecture, site layout, and interior and exterior amenities," Benoit Group members said in their proposal.