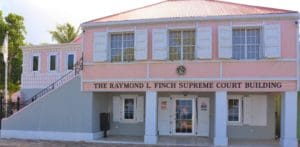 Administrator of Courts Regina Petersen advises the public and members of the Virgin Islands Bar Association that the limited resumption of in-person proceedings in the Judicial Branch of the Virgin Islands has been extended, as modified, through 11:59 p.m., Friday, June 30.
All judicial branch facilities remain open to judicial officers, court staff, attorneys, litigants and members of the public for the purpose of conducting official business. No individual, including court staff, shall be authorized to enter any judicial branch facility without wearing an appropriate face mask, submitting to a temperature check, and complying with all federal and territorial public health guidelines, including any changes for vaccinated persons, unless excused for demonstrated medical reasons.
All judicial officers are strongly encouraged to continue to conduct proceedings remotely to the greatest extent possible. With the approval of the presiding judge or the administrative judge, the judges and magistrate judges of the Superior Court may schedule in-person hearings and trials in all matters other than criminal and civil jury trials, provided that the proceeding can be conducted in accordance with all pertinent health and safety orders, protocols and administrative directives, including room capacity limits and social distancing.
Judicial officers and court clerks are encouraged to stagger cases on calendars, to adhere strictly to the allotted time, and to take other measures to minimize the number of individuals waiting in court or congregating in the buildings.
A permitted remote hearing must be held in lieu of an in-person hearing if a judicial officer, attorney, party or witness is not physically present in the U.S. Virgin Islands or belongs to a vulnerable population who have been encouraged by public health authorities to remain at home. Any delays in the hearing of matters attributable to the COVID-19 emergency shall not be attributed to any party for purposes of determining unnecessary delay under Rule 48 of the Virgin Islands Rules of Criminal Procedure, the Speedy Trial Clause of the United States Constitution or other authorities.
Additionally, pursuant to the most recent order, the Superior Court Rising Stars Youth Steel Orchestra is authorized to resume summer programming in both judicial districts subject to the approval of a detailed plan for program operations by the administrator of courts after consultation with the V.I. Department of Health and other appropriate stakeholders.
All other provisions not modified by this order remain in effect.
For more information, contact Regina Petersen, Administrator of Courts, Judicial Branch of the Virgin Islands, P.O. Box 590, St. Thomas, U.S. Virgin Islands 00804
Fax: 774‐2258  TTY; 774-2237; Regina.Petersen@vicourts.org