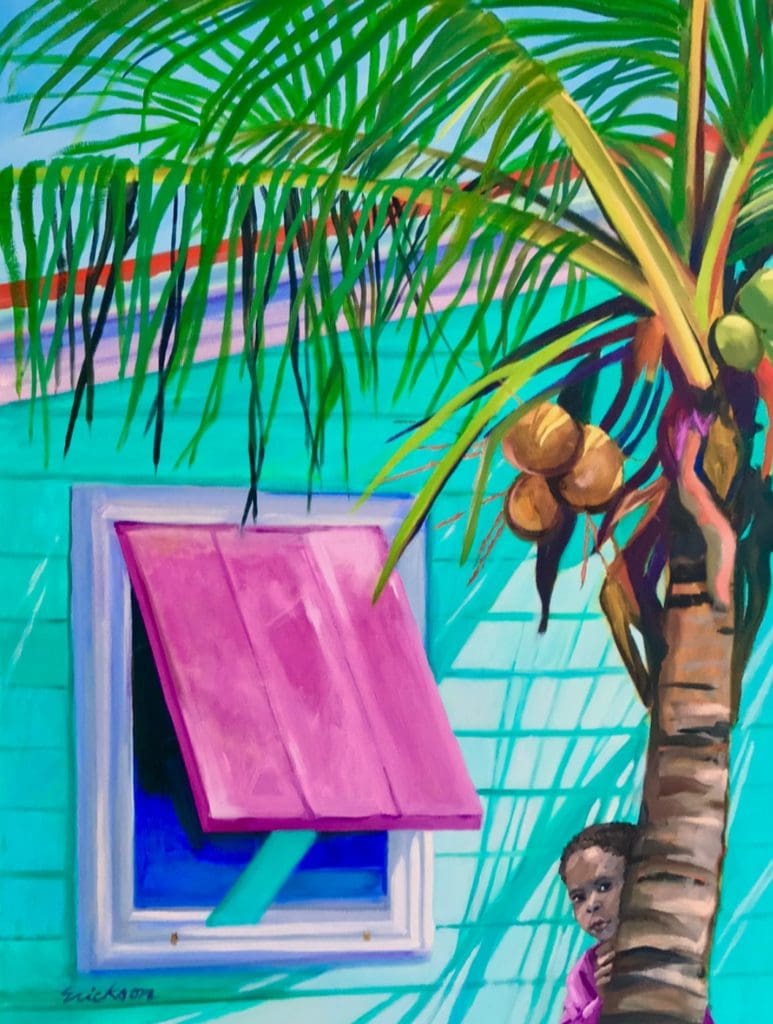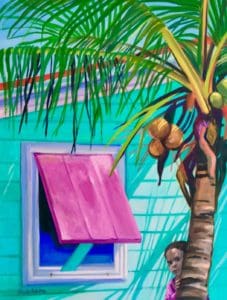 Mango Tango Art Gallery will unveil two exhibitions 5:30-8:30 p.m., Friday, April 30. Shari Erickson's show, "Caribbean Charm," includes recent oil-on-canvas paintings. The "African Allure" exhibit showcases masks, sculpture, baskets and functional dinnerware from many African nations. Danny Silber and Christina Gutel will provide music in the parking lot where wine and appetizers will be served. Once a mask is donned, participants may enter the gallery to view Erickson's paintings and African objects.
Shari Erickson began showing her paintings at Mango Tango Art Gallery over two decades ago. As a recent graduate of Ringling School of Art in Florida, she moved to Atlanta where her creativity earned her city contracts to paint figurative murals.  Later, she and her artist husband, Doug Gifford, found an expanse of land in Cashiers, N.C., that they purchased to design and build a home and a studio.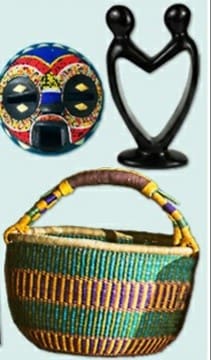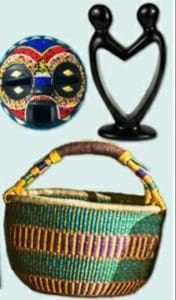 In the late 1970s, they began extensive annual trips to the Caribbean, especially enjoying the islands of the Bahamas, Anguilla, Saint Maarten and the Virgin Islands. The emerald landscapes, the turquoise waters, the red hibiscus and the yellow ginger of St. Thomas became the backdrop for Shari's paintings of islanders, works created with intense colors. Her collectors include celebrities, ambassadors – both locals and visitors.
The May-June 2019 issue of the Saturday Evening Post included an engaging interview with her, and one of her paintings included in the show graced the cover. The Virgin Islands 2020 census poster featured one of her paintings. Her show includes paintings and prints on canvas and on paper.
"Allure of Africa" can be seen in the objects displayed in the show: masks, baskets, fans and sculpture. Used in ceremonies and social events, masks connect to ancestors and to nature, offering a balance between good and evil. Their allure defined Picasso's cubist figures. Cameroon, the Ivory Coast, and Gabon masks are showcased – their style inspired Picasso. Wooden ceremonial veils from the Congo and South Africa, and intricately beaded ones from Ghana fill the gallery's walls.
The show includes wood sculpture and soapstone carvings. Ebony sculptures are made in Tanzania. All soapstone works are from Kiisi, Kenya. All connect to nature.
Functional carved wooden serving utensils with bone handles are made from olive wood in Kenya. Some made from ebony are from Tanzania.
Bolga baskets, or shopping baskets, expertly coiled, plaited and twined vegetable fibers are a mainstay of the people of Ghana. At home in Ghana and at home in the Virgin Islands, the baskets provide both beauty and functionality, as do lovely woven handheld fans. Smaller baskets from Rwanda and Uganda add different motifs.
All objects in the show, wooden masks, stone and wood carvings, and fabrics and baskets made from vegetable fibers and colored with vegetable dyes are organic in nature. All honor Mother Earth.
The shows will continue for one month. For more information, view www.mangotangoart.com  or call 777-3060.