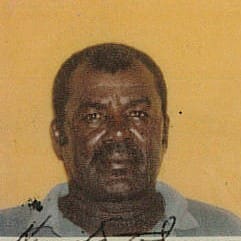 Wilfred James of Estate Whim Garden died on Feb. 25. He was 85 years old.
He was preceded in death by his mother, Nancy Ann Barzey; father, Richard James; son, Daveson James; grandson, Ivor James Jr.; and brothers: Theodore Barzey and Donald Dequintal.
He is survived by his daughter, Nadine James Martin; sons: Ivor James, Elroy James, Clyde James and Jabari James; and grandchildren: Tauwana Wynter, Aron Mahon, Shakira James, Shakir James, Kanisha James, Keishante Thomas, Keith John, Shakeem Alcindor, Shaquan Simon, Shakayla Simon, Chevonne Martin-Kenner, O'Marley Martin, Naeem Martin, Akino Martin, Jahdeem Elroy James, Jahnlanie James, Angelica Jeffery, Clyde Kadeem James, Raheem James, Jamal James, Ishmael James, Elishah James, Isaiah James, Clyde Nahjeem Emmanuel James, Clyde Hakeem James, Kareem James, Shadeem James, Rockeem James and Shantel James.
He is also survived by great-grandchildren: Marshall Keener Jr., Drew Martin, Arianna Jeffery, Annaira Jeffery, Naim James, Jamal James Jr., Mekhi James, Nylah Aaliyah James, Rocky Foster, Trenyah Burroughs, Aniya Burroughs, Lashawn Williams, Leshawna Williams, Shanel Williams and Amir Williams; sister, Chrisencia Barzey; brothers: Carlton Christopher, William Brazey and Trevor Brazey Sr.; aunt, Ellen Daniel; and nieces: Edris Christopher, Christine Barzey, Jo-Ann Barzey, Tiffany Barzey, Patricia Davis-Muhammad, Lelia Dequintal, Denene Dequintal, Orencia Barzey-Bryan, Zulema Barzey, Natasha P. Julius, Rashunda Browne and Shavique Barzey.
Other survivors include nephews: Sinclair Christopher, Samuel Christopher, Kingsley Barzey, Brian Barzey, David Crossley, Devon Barzey, Erwin Barzey, Troy Barzey, Lorenzo Barzey, Travis Barzey and Trevor Barzey Jr.; daughters-in-law: Ita-Simon and Mirrlees Duggins; son-in-law, Cleff Martin; sisters-in-law: Joyce Barzey and Evelyn Barzey; and special friends: Vashti Harris and Keturah Jeffer; as well as other relatives and friends too numerous to mention.
Graveside services will be held at 9 a.m. on Friday, March 19, at Kingshill Cemetery.
The family asks that all attendees adhere to the COVID-19 guidelines. Masks are required to attend services.