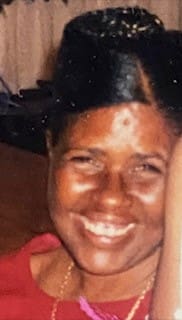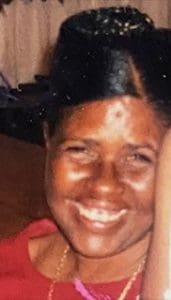 Irene Maria Farrelly-Williams of Estate St. John died on Dec. 11. She was 77 years old.
She was preceded in death by her husband, Francis F. Williams Jr.; mother, Thelma Anduze Farrelly; father, Christian Farrelly Sr.; brother, Clyde Farrelly; nephew, Bernard Farrelly Jr.; aunt, Vera Anduze; uncle, George Anduze; and brothers-in-law: Oneal, Ira and Lincoln Williams.
She is survived by her daughters: Linda Williams and Latoya Williams-Coker; sons: Francis Williams III, Roy Williams, Winston Williams and Michael Williams; grandchildren: Shanice Williams, Tiffany Williams, Marquez Williams, Maleya Williams, Alanna Coker, Rochelle Williams and Terrance Williams; sisters: Jeanne Farrelly, Judith Farrelly, Joan Farrelly, Alice Clarke and Diana Wakefield; brothers: Christian Farrelly Jr., Bernard Farrelly, Conrad Farrelly and Edward Farrelly; daughter-in-law, Reshina Williams; son-in-law, Robert Coker; sisters-in-law: Francesca Farrelly, Deanna Mercado-Farrelly, Winifred Lawrence, Merle Serrano and Annette Jackson; and brothers-in-law: Carlton Wakefield Jr., Lucien, Elroy and Bennett Williams.
She is also survived by nieces: Michelle Farrelly, Marissa Farrelly-Auna, Sunita Farrelly, Jacqueline Canton, Sandra Rock, Barbara McBean, Marissa Otto, Lynette Clarke, Sherika Milligan, Safiya Farrelly, Julissa Newton, Tameka Roberts, Shanice Wakefield, Joyce Lawrence-Martin, Alicia Lawrence-Farrelly, Sandra Serrano, Edna Serrano, Dawn Williams, Myra Williams-Muller, Wean Williams-Farrell, Leona Williams, Sharon Williams, Leila Williams, Priscilla Williams, Alicia Williams, Diana Williams, Rena Williams, Bennitta Williams-Edmeade and Sheena Jackson;
More survivors are nephews: Eric Canton Jr., Anthony Abdool, Ronald Abdool, Elroy Williams Jr., Darwin Williams Sr., David McBean III, Chijioke Farrelly, Gregory Farrelly, Christian Farrelly, Rafael Pena, Emmanuel Pena, Rodney Francis, Hill Ronel Jermain, Anwar Mascal, Caleave Mascal, Carlton Wakefield III, Conrad Farrelly Jr., Kareem Farrelly, Kelvin Farrelly, Gustave Lawrence, Wilfred Lawrence, Selvin Serrano, Leston Serrano, Joseph Serrano, Recaldo Serrano, Luz Serrano, Chris Williams, Michael Williams, Darin Williams, Damon Williams, Neal Williams, Lucien Williams Jr., Richardo Williams, Lincoln Williams, Ira Williams, Clarence Williams, Matthew Williams, Mathias Williams, Rodney Williams, Wayne Jackson Jr. and Michael Jackson;
Other survivors include aunts: Therese Farrelly Christian, Christina Farrelly-Greaux, Rita Anduze-Spain, Joyce Anduze-Clarke, Norma Anduze Bogan Parson, Juanita Anduze-Benitez and Olive Anduze; uncles: Beverly Anduze, Lloyd Anduze and Roy Anduze; special friends: Cecil Coker and family, Kemba Martin and family, Bromley Martin Jr., Gov. Juan F. Luis Hospital and staff, the staff and management at The X Spot, and Omayra Ayala; as well as other relatives and friends too numerous to mention.
The viewing will be held at 9 a.m. followed by a funeral service at 10 a.m., Wednesday, Dec. 23, at Church of God of Prophecy. Interment will be at Kingshill Cemetery.
The family respectfully requests that attendees wear a face mask and adhere to the social distancing requirements.