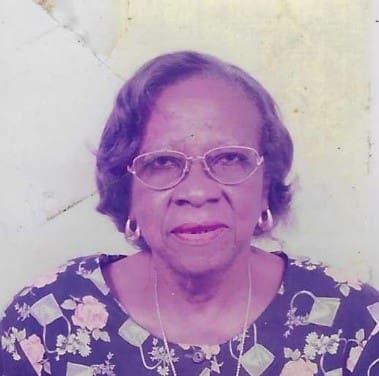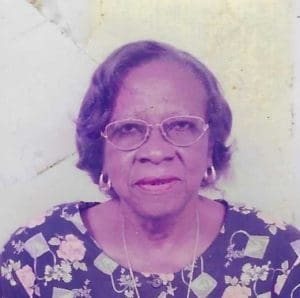 Vera Irwin of Estate Strawberry Hill died on Saturday, Nov. 14. She was 98 years old.
She was preceded in death by her husband, Leon Irwin; mother, Olivia Thomas; daughter, Marjorie Briggs; son, Wayne Nielsen; sister, Margaret Emelda Brannigan Rodgers; and brothers: Louis Joseph and Helga Joseph.
She is survived by her daughter, Helen Howell Shirley; sons: Meridith Nielsen and Harvey Nielsen; grandchildren: Sonya Nielsen, Michelle Nielsen, Michelle Shirley (caretaker) Daryl Carr, Jamal Nielsen (Rhoda), Christina Nielsen-Parrish (Eric), Kareem Nielsen (Belinda) and Asombai Briggs; and great-grandchildren: Hakeem Hansen, Natalie Jennings, Malcolm Nielsen, Rachel Lebron, Da'kai Carr, Amonhotep Nielsen, Kalyna Nielsen, Chinua Nielsen, Asia Jackson, Nadia Greene and Azari Briggs.
She is also survived by great-great-grandchildren: Tre Thompson, Chase Abney, Takara, Shaniah, Mia and Nadia Hansen, Santana and Luke Thomas; brother, Alphonse "Drummer" Joseph; nieces: Bernice Turnbull, Nairesta Corniero, Lynette Rodgers, Sandra Joseph, Cheryl Joseph and Chimene Joseph; nephews: Levron Sarauw, Darryl Rodgers Sr., Errol Rodgers, Lloyd Joseph, Larry Joseph, Louis Joseph, Helga Joseph and Dale Joseph; and daughters-in-law: Stephanie Nielsen, Shermaine Nielsen and Rhoda Felix-Nielsen.
Other survivors include son-in-law, Eric Parrish; sister-in-law, Pearl Joseph; special friends: Jeanette Wineglass, Brittany and Brendez Wineglass, Latoya Harden, Ms. Vena Henry, Theodosia Christopher, Leona M. Garvey, Victor Irish, Dr. Neville Connell, Duane Howell, Frederica Leonce, Claudius Petersen, Hugh and Jeanette Pemberton, and  Patricia Griffin; cousins and other relatives: Gwendolyn Lucas and family, Ingeborg Bastian McIntosh and family, Marilyn Nicks and family, and Mary Roebuck and family; as well as other relatives and friends too numerous to mention.
A public viewing will be held from 3-5 p.m., Wednesday, Dec. 2, at James Memorial Funeral Home Chapel.
The funeral service will be held on Thursday, Dec. 3, at St. Ann's Catholic Church. The service will begin at 9:30 a.m. Interment will follow at Kingshill Cemetery.
The family respectfully requests that attendees wear a face mask and adhere to the social distancing requirements.