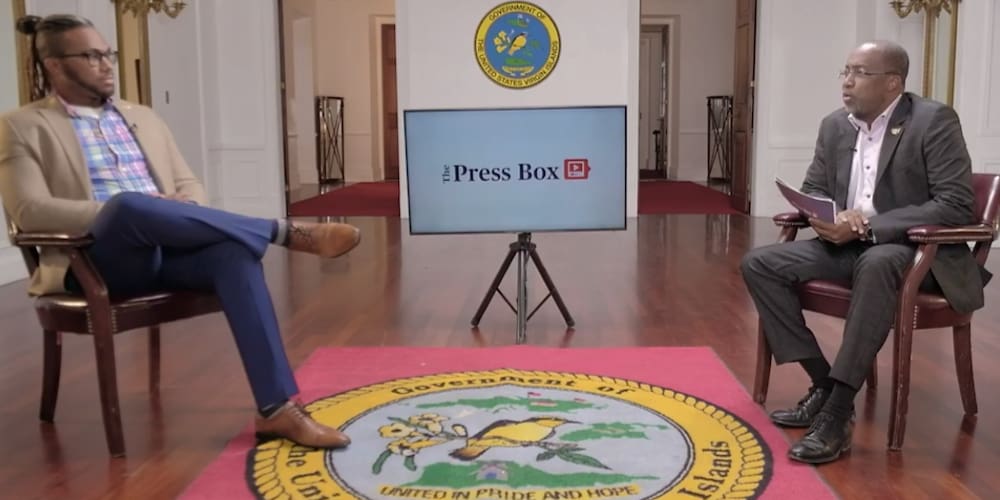 The V.I. government is working to embrace solar energy, reduce electric costs and make the territory more resilient against prolonged power outages that occurred after the twin Category 5 hurricanes of September 2017, according to Kyle Fleming, director of the V.I. Energy Office.
Fleming spoke Thursday on the Press Box, the virtual town hall livestreamed weekly from Government House on St. Croix. Hosted by former V.I. Energy Office director and Gov. Albert Bryan Jr.'s current Chief of Staff Karl Knight, the 36th episode was the final one of 2020 as the program goes on hiatus until January.
Fleming touted the government's latest net energy billing program – in which residents with solar installations can get credit for excess power they send to WAPA – as well as efforts to create micro-grids on public buildings throughout the territory that will serve the dual purpose of feeding the utility while reducing the reliance on diesel generators during electric outages.
One positive that came out of the 2017 storms, Fleming said, "is people understood the importance of energy resiliency to a new degree."
The first public renewable energy program, instituted under Knight and referred to as net metering, had a cap of 10 megawatts total on St. Thomas and five megawatts on St. Croix, limiting the number of participants.
Under the new program, "the goal is really to not be able to tell people how much distributed energy they can incorporate, but have a quantitative way of assessing at each location where the systems are going in to make sure it is going to be compatible with the grid as a whole," Fleming said. "That way it allows us to do away with these statutory limits and opens up to a broader market of who can participate in the program in the long term."
"You're able to monetize, or at least get credit for, the energy that you are generating," Fleming said. "There is value to that energy resource you are creating."
Unlike in the past, when the paper application process could take up to a year, it now may be completed through an online portal at the Energy Office site, he said.
"We're trying to stabilize the utility while we transform the utility," said Fleming, a licensed engineer who has held his post since February 2019 and also is a V.I. Water and Power Authority governing board member, serving as chairman of the Planning and Economic Development Committee.
That includes WAPA's so-called Solar Rooftop Initiative, which will utilize government buildings for micro-grids, said Fleming, as the territory builds back from the 2017 storms with more than a billion dollars in federal funding.
Two solar farms – one on Donoe Bypass on St. Thomas that is being rebuilt by a private company after it was destroyed in Hurricane Irma, and one in Spanish Town on St. Croix – sell power back to WAPA at an agreed-upon rate, and the utility has plans for its own renewable energy resources, Fleming said.
"The Spanish Town and Donoe plants are power-purchase agreements, but moving forward, the hope is to incorporate more utility-owned renewable energy resources," Fleming said.
Also among his current projects is a solar and battery installation at Educational Complex High School on St. Croix, the island's primary shelter that after the 2017 hurricanes had to provide support to residents for two to three months, said Fleming. The plan is to have the micro-grid in place by the start of the 2021 hurricane season, he said.
"We really see this as being a benchmark for how we start looking at supporting critical infrastructure and diversifying the energy resources we apply to those areas," said Fleming.
"Generators failing at our shelters is a chronic fear every hurricane season," said Knight.
The project is being paid for with $625,000 from the Energizing Insular Communities grant program, funded and administered through the U.S. Department of the Interior's Office of Insular Affairs.
If it goes well, the micro-grid will be replicated at all of the territory's shelters, Fleming said, who also is working with the Property and Procurement Department to modernize the government's fleet management plan, with the goal to "lead by example in the adoption of alternative fuel vehicles."
"The Virgin Islands and the Caribbean islands as a whole present a unique opportunity for electric vehicles. We don't have the same range anxiety issues as stateside and nationwide. We can actually use our small size to advantage," Fleming said. He drives a 2019 Nissan Leaf electric vehicle on his commute from the East End of St. Croix to Frederiksted every day without issue, he said, adding that with advances in technology, it's now even possible to buy heavy equipment fueled by batteries.
His office also will reintroduce the Energy Star rebate program starting on Dec. 1, in time for the holiday season, said Fleming. Residents and small business owners can receive 40 percent rebates on select Energy Star products purchased in the territory under the U.S. Environmental Protection Agency initiative, with the potential of up to $5,000 in savings.
More information about the net energy billing and other programs of the V.I. Energy Office is available by calling 340-713-8436 on St. Croix, 340-714-8436 on St. Thomas, visiting energy.vi.gov or finding the office on Facebook.