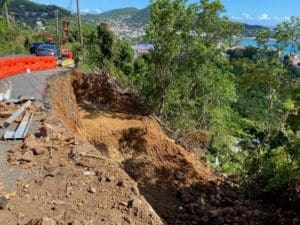 The Department of Public Works is updating the community on the status of the Mafolie Road Project. This emergency repair project began on Sept. 14 and is projected to be completed by January 2021.
A single-lane closure will be in effect throughout the duration of the project. Motorists are urged to adhere to all traffic controls and respect signals from on-site flaggers. The department is also asking motorists to use alternate routes as much as possible to minimize traffic during peak hours.
The department strives to ensure that roadwork is completed efficiently while ensuring the safety of the workers and the motoring public.
The estimated project cost is $909,136.07.