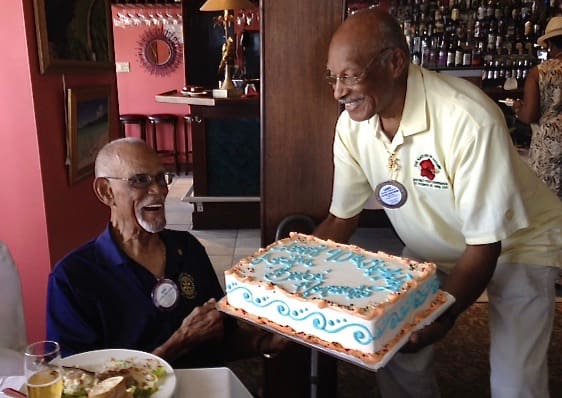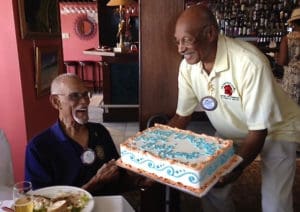 The Virgin Islands community and a host of government and civic leaders are paying tribute to Austin "Babe" Monsanto, who died on Oct. 14 at the age of 94. Those who remember him spoke about a man devoted to the nation, his community and the Virgin Islands government.
A relative said Monsanto died peacefully at home as he slept.
Monsanto packed a lifetime of service into his years as a military veteran, the first Black Virgin Islands park ranger, a high school shop teacher, a Rotarian, sportsman, an environmental steward and a Port Authority marine manager.
Gov. Albert Bryan Jr. praised him in a statement issued by Government House.
"I have fond memories of Mr. Monsanto when he served at the Port Authority. His name was a staple in my home, and I came to admire and respect him as a trailblazer. My mom always spoke highly of him and his commitment to excellence," Bryan said.
The head of the community group We From Upstreet spoke fondly of Monsanto and his volunteer spirit that lasted into his ninth decade. Upstreet President Kyza Callwood – an aide to Delegate to Congress Stacey Plaskett – said Monsanto never missed a meeting. He sat in the office chair at the back of the room, Callwood said.
That chair belonged to Babe, he said. He also took a seat each December in the Franklin Delano Roosevelt Veterans Memorial Park as the head of Upstreet's park committee. Each year, he would wait for the crew from Public Works to come to string up the lights.
It wasn't just the decorations, Callwood said. Monsanto's dedication started with the revitalization of Roosevelt Park that began in the 1980s and its transformation into a place honoring Virgin Islanders who served in the Armed Forces.
"Mr. Monsanto led the charge for our organization, for the redevelopment of Veterans Memorial Park. He fought for the funding for that park," the Upstreet president said.
His service as a Rotarian included faithful attendance at meetings, work on its board of directors and mentorship of student members of the Charlotte Amalie High School Rotary Interact Club. The group showed its thanks by awarding its highest honor – the Paul Harris Award – to Monsanto in 1987 and 1997.
On Memorial Day, he proudly marched in uniform up Veterans Drive as a member of the American Legion. Service in the U.S. Army took him to Korea in the 1950s. A social media post on his 94th birthday included a photo of Monsanto dressed in the white uniform shirt and creased cap of a Legionnaire.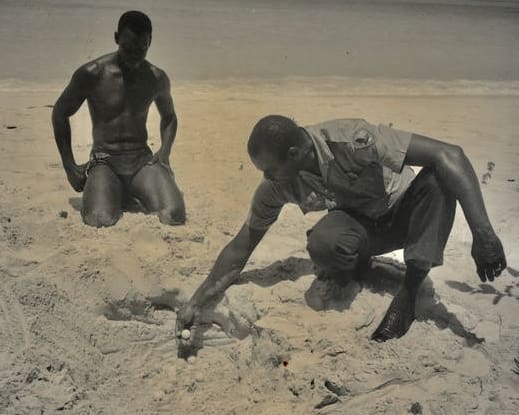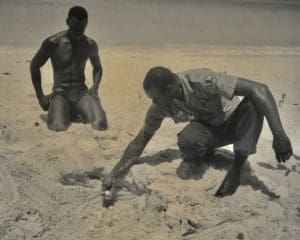 Returning to the V.I. at the end of his duties, Monsanto donned the uniform of a ranger in the newly established Virgin Islands National Park. A social media post appearing after his death notes that "In 1958, President Dwight Eisenhower named Monsanto the first Virgin Islander to be a National Park Ranger, and he was the first Black park ranger to attend the National Park Training Center."
National Park Superintendent Nigel Fields and the rest of the park staff offered their condolences in a Facebook post.
Fields also noted Monsanto's skill as a photographer. Some of the images he captured during his years as a ranger are still included in the park's archives, the superintendent said.
Before settling into a career as a marine manager for the V.I. Port Authority, Monsanto spent time teaching industrial arts at Charlotte Amalie High School. Mid-career, he found time for public service again, this time as chairman of the Coastal Zone Management board on St. Thomas.
V.I. Source founder Shaun Pennington remembered meeting him during his leadership years on the CZM board.
"I was particularly impressed by his integrity and moral compass. He was fair and honest and paid particular attention to what he was overseeing, which was the environment. He seemed to understand it was crucially important, even back then," Pennington said.
Years later, in 2007, the 27th Legislature honored him with a resolution, naming the new Crown Bay cruise ship port after Austin "Babe" Monsanto.
Monsanto was one of nine children born on May 20, 1926, to Rose Mahoney and George Monsanto. He graduated from Charlotte Amalie High School – where he later taught shop – and continued his education after high school at Hampton Institute.
In 1955, he married Alda Schulterbrandt. She survives him after death, along with their children – Trevorne, Stephen and Edwin.
Funeral arrangements are pending.