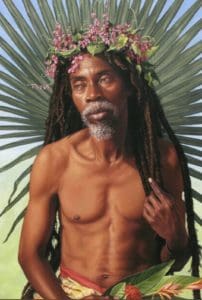 81C is proud to announce its Charlotte Amalie grand opening with an inaugural event scheduled for 6-9 p.m., Friday, Oct. 30. The event is in celebration with the St. Thomas Historical Trust and features an art exhibition with works on display by Shansi Miller.
81C is a pop-up event space, art gallery, Airbnb and artist residency created by local entrepreneur Zack Zook. Originally built in 1810 as a rum warehouse and residence, the historic property is located on Strand Gade near Market Square. Zook has completely renovated and restored the two-story building.
The project was originally called Fallen Angel, intended as an homage to a nightclub that was located in the building mid-century. With the launch of this unique location, Zook aims to create a platform for creative event rental and artist/entrepreneur networking. The pop-up event space can accommodate group meetings, public/private parties and creative events of all kinds.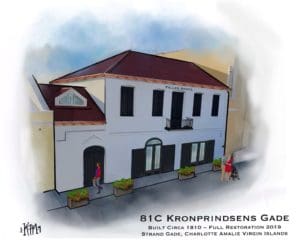 Zook, who owns and operates construction firm Zook Industries, is a former director of the art space Alternative Art Alliance, also known as sevenminusseven, where he worked as a curator of art exhibitions alongside organization founder and artist Clay Jones. Zook managed events and development in the literary arts industry in Brooklyn for a decade, conducting up to 20 events per week. He was voted one of the "100 most influential people in Brooklyn culture" in 2014.
He first moved to the Virgin Islands in 2003 and worked in the catering service industry at the St. Peter Mountain Greathouse for Chef Damaris James, Judy Grogan and Bill Grogan. Zook has also worked with the St. Thomas artisan coffee company Virgin Islands Coffee Roasters. Since 2017 he has conducted a St Thomas-based job and trade skill training program for international college-aged individuals interested in travel and learning construction skills.
81C is run by Zook, Augustine Holder and Joseph Hewes. Call 917-327-1561 for pop-up event booking inquiries, press inquiries and other information.
The pop-up event space consists of a full bar/cafe and a neighboring boutique. The on-site Airbnb and artist residency program will launch in January 2021.
Visit www.81CVI.com for more information.
Event details:
81C is located on Strand Gade between the waterfront and Main Street, halfway down the block towards Market Square, just north of Moe's grocery.
Fine art by painter Shansi Miller will be on view for the event, and extended gallery hours for viewings will run through Nov. 8.
The St. Thomas Historical Trust is joining 81C in celebration of its opening. Trust membership opportunities and info will be available for event attendees.
COVID-19 related health safety measures will be practiced, and event attendees will be required to wear masks. Capacity regulations will be observed.
Shansi Miller Bio: Shansi Miller was born and raised on St. Thomas, U.S. Virgin Islands. The daughter of adventurous travelers who settled in the Virgin Islands in the 1960s, Miller is a unique brocade of West Indian culture and classical western heritage. At the age of 16, she began her formal studies with the artist and teacher Tom Saint Vincent.
Later she studied at the Corcoran School of Art in Washington, D.C., before returning to the islands and continuing her studies with Saint Vincent. Miller has traveled extensively in Europe, Asia and the Caribbean, broadening her artistic scope as her skills grew.
Miller's work embodies her sharp vision of her home and its people, culture, nature, animals and daily life. She opens a door to this seldom-seen world of the Virgin Islands.