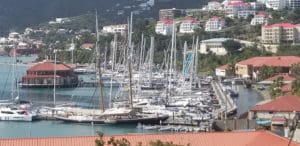 Nothing beats an in-person show to showcase vessel and crew combinations to charter brokers. This is especially true as the U.S. Virgin Islands has reopened to tourism, with the restart of day charters on Sept. 8 and term-yacht charters on Sept. 19. This makes the USVI a key Caribbean cruising ground that has reopened for crewed charters since the start of the COVID-19 pandemic, thus increasing the likelihood of a full season in the territory's beautiful waters. Plus, it is unlikely that a government shutdown will reoccur in the territory in November due to a successful lockdown and reduction of local cases of COVID-19 in late August and early September.
Hence, the VI Professional Charter Association (VIPCA) will be hosting the 2020 USVI Charter Yacht Show from Nov. 11-15, and it will be doing so with rigorous COVID-19 safety protocols. For the full text of the protocols, please visit https://vipca.org/covid-19-safety-protocols/. However, to accommodate brokers unable to attend in person, organizers are adding a digital element.
"Attending the USVI Charter Show is always on the list of any Caribbean Charter Broker. However, in special times like the ones we are going through, it becomes double important! By attending, virtually or in person, not only are you showing support for the entire industry, but it is also a great opportunity to learn how other players (brokers, clearinghouses, crews and owners) are making it through these hard times. It is the perfect place to share your experiences and listen to the ones from others. Last but not least, it helps us better understand the challenges being faced by the yachts and crews to provide clients with the vacation of a lifetime under this new normal," said Germán Liubitch, founder and sales director for Ritzy Charters, with offices in the BVI, USA and Spain.
The digital element of the 2020 USVI Charter Yacht Show will offer VIPCA broker members attending remotely digital access to yacht tours and crew interviews upon payment of $50 for individual password access. The fee for non-VIPCA members is $100. Attending in person is free to VIPCA-member brokers and is $100 for non-members. For registration physically or virtually, visit https://vipca.org/charter-broker-registration.
At no extra cost to the yachts, VIPCA has arranged for The Pamlico Group LLC, with offices in Florida and Connecticut, to film all registered yachts at IGY's Yacht Haven Grande Marina during the show dates. Additionally, yachts can schedule Pamlico's professionals to film virtual 360-degree photographic tours pre- or post-show at extremely discounted rates. These tours show the yacht's exterior and interior and can be viewed on a mobile device, computer or using VR goggles. Exhibiting yachts can arrange their 360-degree virtual tour directly with the Pamlico Group by contacting Ted Norris at [email protected].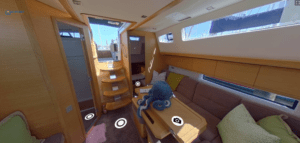 "The best way to explain the benefits of a virtual 360 tour is to imagine a hypothetical situation: A broker sends a couple of charter yacht options to a prospective charterer. One listing has a virtual tour, images and video, while the other has standard images and video. A virtual tour immerses this prospect in the yacht – full screen – with a Caribbean backdrop of sun and blue water, allowing them to be virtually transported aboard viewing the full exterior, interior and featured amenities while viewing the yacht's branding subtly throughout the tour.
"The experience of a virtual tour sets the yacht apart from others without a virtual tour and creates a greater sense of confidence for the charterer because they have virtually 'visited' the yacht before booking a charter. Images and videos are great, but there is a reason virtual tours are used so prominently in luxury real estate; they work," said Norris, Pamlico's president.
Boats, Brokers – Register Now!
Nearly 50 yachts were registered for the USVI Charter Yacht Show as of Sept. 1, with additional registrations still anticipated. The show fleet includes a diverse mix of vessels: sailing monohulls and catamarans up to 80-feet and longer and motor yachts in the 100- to 150-foot range. To register, visit: https://vipca.org/vessel-registration/
Over 150 individual charter brokers from the Caribbean, U.S. and Europe attended the 2019 USVI Charter Yacht Show, and with this year's new online element, more still are expected to virtually attend.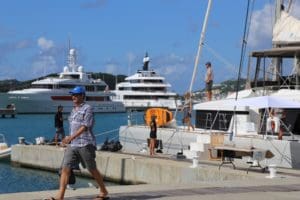 Bluebeard's Castle, located on Bluebeard's Hill in Charlotte Amalie and within walking distance of the show, is offering charter brokers the 20 percent discounted rate of $189 per night. The discounted accommodations are available on a first-come, first-serve basis and are limited. Brokers must contact the hotel directly to make the reservation: 774-1600/ www.bluebeardscastles.com.
For more information or to register for the show, brokers can visit: https://vipca.org/charter-broker-registration/
Sponsors of the USVI Charter Yacht show include the USVI Department of Tourism; Yacht Haven Grande; IGY Marinas; Offshore Marine; the Gowrie Group; Denison Yacht Sales; Moe's Fresh Market; Grey Goose, distributed by West Indies Company; Veuve Clicquot and Captain Morgan, distributed by Bellows International; the Charter Yacht Broker Association; Cardow Jewelers; Harbor Shoppers; and La Royale Cosmetics.