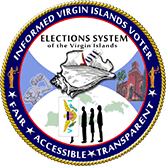 The Elections System of the Virgin Islands joins the nation in celebrating National Voter Registration Day on Tuesday, Sept. 22. National Voter Registration Day is recognized nationwide on the fourth Tuesday of September each year.
"Registration is the first step and participation is the most important step. If you do not vote your voice is silent on the issues of the territory; you must show up to vote," said Supervisor of Elections Caroline F. Fawkes.
This year, due to COVID-19, activities were curtailed to ensure the safety of staff and the general public, but the public is encouraged to come out and register to vote in their respective district. The offices are open for Voter Registration Monday through Friday, from 9 a.m. to 2 p.m. On St. John, the office operations are Tuesday and Thursday from 9 a.m. to 2 p.m. The last day to register to vote to participate in the 2020 General Election is Oct. 3, 2020.
The office locations are as follows:
St. Croix – Sunny Isles Annex, Unit 4 (adjacent to Kmart Appliances Store)
St. Thomas– Above Banco Popular, 2nd Floor- Lockhart Garden
St. John – Market Place Suite II, 3rd Floor
For additional information, you may contact the Office of the Supervisor of Elections at 773-1021.
Visit the website www.vivote.gov for current election news and updates.