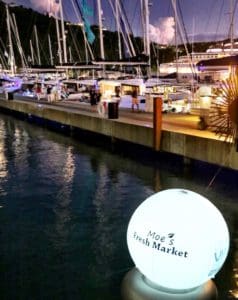 Moe's Fresh Market, a locally owned and operated chain of upscale grocery stores, is the official provisioner and caterer of the Virgin Islands Professional Charter Association (VIPCA)-hosted 2020 USVI Charter Yacht Show. The show is scheduled for November 12-15, and Moe's Fresh Market will open its third market at IGY's Yacht Haven Grande at the end of September.
This store, like Moe's locations on the Charlotte Amalie Waterfront and in Red Hook, is packed with must-have charter ingredients such as fresh fruits and vegetables, fine meats and seafood, and a far-reaching liquor selection. Plus, Moe's Fresh Market's services — such as catering to special ingredient requests, online ordering and marina delivery — mean crews can partake of prompt provisioning and clients are assured of savoring the fine cuisine prepared by chefs aboard the U.S. Virgin Islands-based luxury boutique charter yacht fleet.
"The opening of our latest Moe's Fresh Market at IGY's Yacht Haven Grande underscores our desire to serve the community even better, in particular the territory's charter yacht industry and it's guests, with the finest and freshest foods and ingredients," said Willie Hamed, vice president of Demah Inc., dba Moe's Fresh Markets.
One step inside the new Moe's Yacht Haven Grande location reveals a world of goodness. Illustrating its marine industry commitment, murals to the left and right, respectively, portray a map of the U.S. and British Virgin Islands cruising grounds and a mast-down view of a stunning sailboat. Beyond, are Moe's Fresh Market signature fresh foods departments. Displays showcase pre-cut and cut-to-order meats, poultry and seafood, including lobsters.
The full-service deli serves Boars Head brand meats, imported and domestic cheeses, house-prepared salads, Moe's StoneHouse Sub-brand sandwiches, and salad/cold and hot food bars. Crusty breads, artisan loaves and pastries are freshly baked daily. Catering with these items is available with 24-hour notice.
Opposite the grocery aisles, boasting numerous organic, gluten-free and international ingredients, is the garden-like produce department. Fresh fruits, vegetables and herbs are flown in twice weekly from the U.S. mainland plus supplied by local and regional Caribbean farmers.
A glass-enclosed elevator to the second floor is a focal point from the market's front entrance. Here, a special wine room is where regularly hosted wine and food tastings will acquaint yacht crews with what's new. Moe's Fresh Markets' StoneHouse Cellars offer the largest fine wine selection on the island, with offerings, including spirits, sourced from around the world. There's also local and specialty rums, beers, liquors, non-alcoholic beverages and waters.
Moe's Fresh Market will cater individual lunches and dinners, with both meat and vegetarian options, in pre-packaged compostable containers during the 2020 USVI Charter Yacht Show. Of note, almost all cardboard as well as plastic is recycled at Moe's. Also, the retailer will host small group tours of its new Yacht Haven Grande location. Crews can email their provisioning lists to [email protected]
"This year's show is a total shake-up from last year," said Oriel Blake, VIPCA's executive director, who is glad to see the expansion of Moe's Fresh Market on St. Thomas and to have the retailer named as the show's official provisioner and caterer.
"With the removal of evening events, the focus has shifted entirely on yacht viewings. Charter brokers attending in person will have maximum time to connect with crews aboard their yachts both by day and evening. Moe's Fresh Market couldn't have been more receptive and adaptable to convert all dining from buffet service to individually wrapped, compostable take-out containers. With the meals now portable, and lines avoided, dinners in groups of up to four brokers can take place onboard the yachts without demanding too much of the yacht chefs."