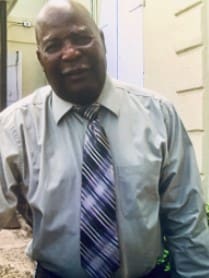 Evan Valdamer Hill of St. Thomas, U.S. Virgin Islands, died on Aug. 15.
He was preceded in death by his parents: Valdamer A. Hill Sr. and Florence Hill.
He is survived by his wife, Madonna Dorset Hill; brothers: Milton Malone, and Elroy, Valdamer Jr., Donald and Roger Hill; sisters: Kathleen Hill-Dyer and Florence Hill-Trent; daughters: Faye, Lanika and Deidra Hill; sons: Evan Mubarak and Dayle Hill; stepchildren: Marlon, Marvin and Marlanda Nelson; mother-in-law, Veronica Dorset of St. Maarten;
He is also survived by grandchildren: Thara Jameer, Jahnia and Jahklyn Pascal, and Maya Hill; aunt, Mavis Brady; uncle, Guy Donovan; sisters-in-law: Lorraine, Jennifer, and Charlene Hill, Margaret Peters, Claudia  Dorset and Carthy Boston; and brothers-in-law: Lowell Dyer and Wendell Trent, Augustine, Eric and Marin Dorset, and Hendrickson Jordon.
Other survivors include numerous nieces, nephews and cousins to include members of the Vanterpool, Donovan, Sprauve, Blyden, Chinnery and Vialet families; and close friends: Jeffery Sewer, Joseph Ramsey, Raymond Harley, Victor Garfield, Justin Harrigan Sr., Clarence Payne Sr., Samuel Liburd, Danley Soanes, Vance Pinney, Willis Pinney, Patrick Farrell, Glen Samuel, Hubert Pole, Myron Jackson, Gail Callwood, Linda Hill and Cecilia Revera Hill.
The first viewing will be held from 3-5 p.m., Thursday, Sept. 24, at Turnbull's Funeral Home. The second viewing will be held at 8:30 a.m. followed by a funeral service at 10 a.m., Friday, Sept. 25, at The City Seventh-day Adventist Church. Interment will b at Eastern Cemetery, Smith Bay.