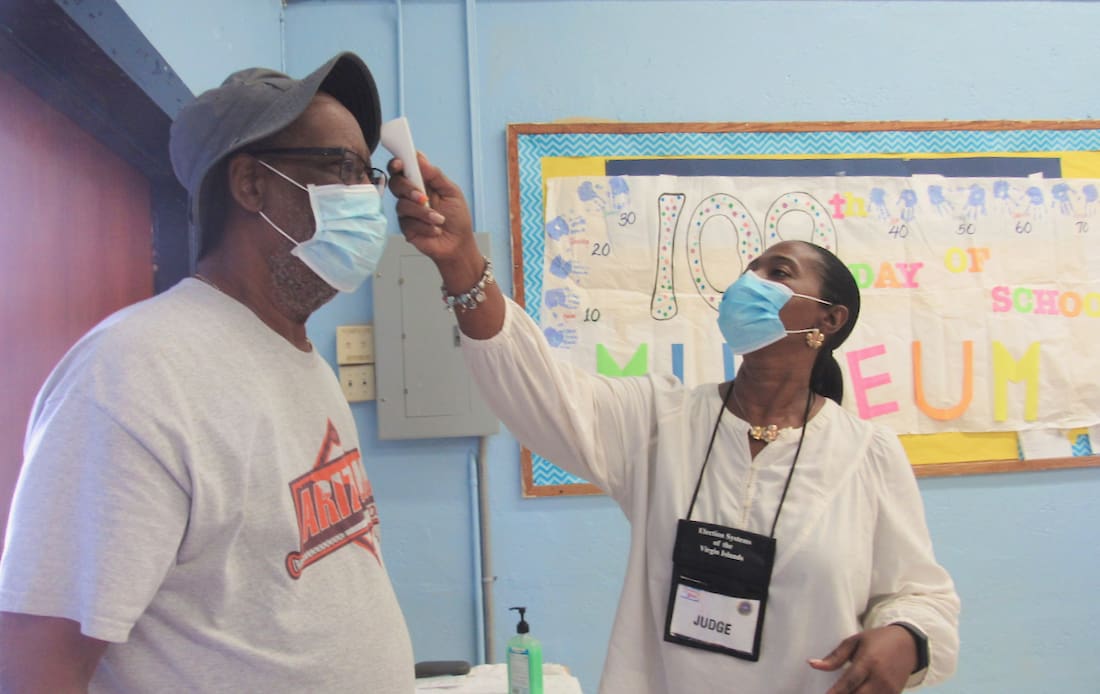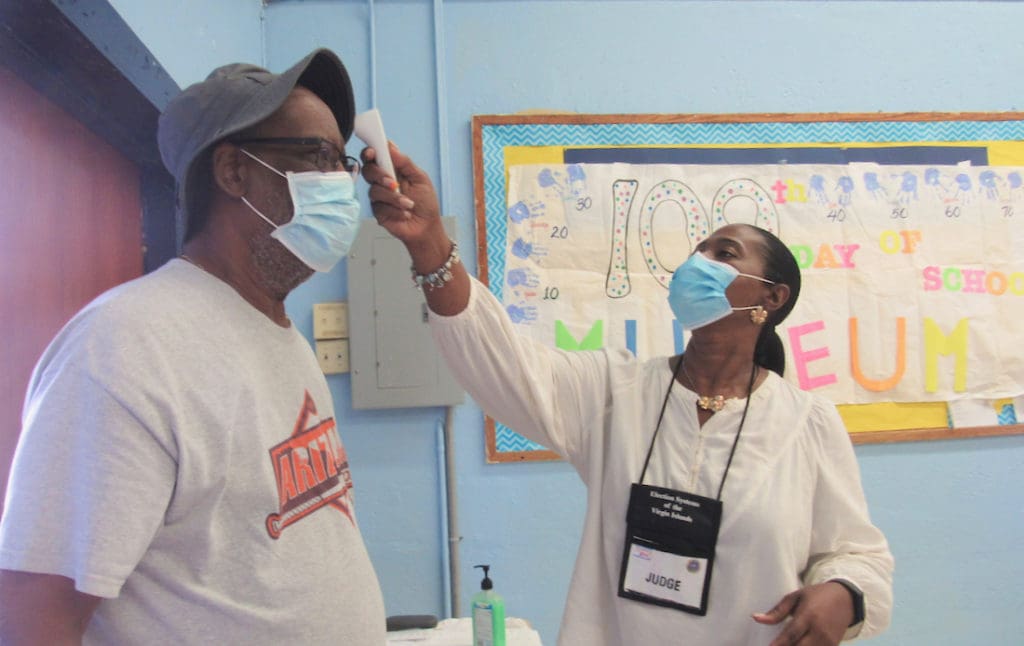 Territorywide, the turnout for Saturday's primary was down, with only 69 percent – just over two-thirds as many – casting votes as did in 2018.
Saturday, 3,901 ballots were cast compared to 5,663 in the 2018 primary. The 2018 primary included the race for governor, which always draws voters, and it wasn't held in the middle of a global pandemic.
Polling officials working with the Elections System feared that concerns over the COVID-19 health emergency would keep voters away. Virgin Islanders who chose to vote were greeted by an official directing them to use hand-washing stations or hand sanitizer. Temperature checks were performed with hand-held, no-contact thermometers.
And early voting was moved away from Elections Systems offices on St. Thomas and St. Croix to polling sites, allowing for greater social distancing.
Lt. Gov. Tregenza Roach was among the voters casting his preferences at the Bertha C. Boschulte Middle School on Saturday. Roach said he was favorably impressed with the arrangements.
"I think the process went very smoothly. I'm very impressed with the Board of Elections. They did a really good job with the washing stations and the hand sanitizer. The process was easy, and it went well for me," he said. "I know maybe the voter turnout was low, and that made it even more important for me to come out and vote and stay engaged."
And in spite of a slower stream of voters, enthusiasm still bubbled along the electioneering line. Candidates and supporters turned out to encourage last-minute decision-makers.
Unofficial results are:
SENATE
All six of the St. Croix lawmakers seeking reelection cleared the first hurdle, finishing in the top seven of the candidates. Three-term Senator Kurt Vialet from St. Croix was the top vote-getter in the primary race with 1,194 votes, followed by Senate President Novelle Francis Jr. with 1,097.
Freshman Senator Donna Frett-Gregory took 1,249 votes to emerge as the top vote-getter in the St. Thomas-St. John District, followed by fellow freshman Athniel "Bobby" Thomas with 995 votes. Newcomer and former Division of Personnel Director Milton Potter placed third with 970 votes.
Sens. Alecia Barnes from St. Croix and Myron Jackson from the St. Thomas/St. John District chose not to run for reelection.
St. Thomas
Donna Frett-Gregory – 1,249
Athneil "Bobby" Thomas – 995
Milton E. Potter – 970
Carla Joseph – 956
Stedmann Hodge Jr. – 945
Marvin Blyden – 858
Jonathan P. Tucker Jr. – 696
Jean A. Forde – 599
Shirley M. Sadler – 502
Larence Larry Boschulte – 494
Patrick Simeon Sprauve – 475
WRITE-IN – 60
St. Croix
Kurt Vialet – 1,194
Novelle E. Francis Jr. – 1,097
Allison L. DeGazon – 892
Genevieve Whitaker – 877
Oakland Benta – 853
Javan E. James Sr. – 851
Kenneth L. Gittens – 799
Troy C. Williams – 574
Andrew John – 178
WRITE-IN – 63
BOARD OF EDUCATION
Shawna Richards, chief of staff to Sen. Francis, was the top vote-getter in the primary with 900 votes cast in her favor on St. Croix. Emmanuel Perez won 630 votes to gain a November ballot spot along with Richards.
St. Thomas-St. Croix Board of Education candidate Kyza Callwood won a ballot position in the general election along with attorney Nandi Sekou. Callwood won 882 votes, Sekou followed as a close second with 873 votes. Arah Lockhart, a perennial Board of Education member, lost her bid for reelection, placing third with 683 votes.
St. Croix
Shawna K. Richards – 900
Emmanuella Perez – 630
Imani Heath – 467
WRITE-IN – 6
St. Thomas/St. John
Kyza A. Callwood – 882
Nandi Sekou, Esq. – 873
Arah C. Lockhart – 683
Judith W. Edwin – 313
Write-in – 9
DEMOCRATIC PARTY OFFICES
Voters in Saturday's chose former Delegate to Congress Donna Christensen to serve as the Democratic National Committee chairwoman. Christensen outpolled her competitor, former Sen. Carol M. Burke, 1,895 to 1,145.
Former district chairman and union leader Glen Smith edged former Democratic State Chairman Cecil Benjamin to win the state chairmanship. Internal votes for party positions become final once the primary is certified by Elections officials. Smith received 1,245 votes to 1,121 votes for Benjamin.
Four-term District Chairman Edgar Baker Phillips lost his bid for reelection to Randolph Bennett, with Bennett winning 754 votes to Baker's 671.