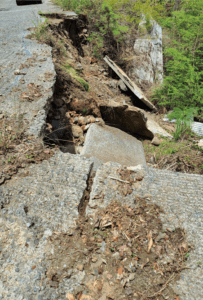 The Department of Public Works advises the motoring public that effective today, Tuesday, June 2, Route 335 is closed to all thru traffic until further notice. Route 335, which is located in upper Lindbergh Bay, intersects with Route 303 in the south and with Route 33 – Crown Mountain Road, in the north. A section of this roadway has been compromised; therefore, the roadway is now closed to all thru traffic. The road work will continue until further notice.
The compromised section of the roadway on St. Thomas was damaged during the 2017 hurricanes and has continued to deteriorate into its current condition. This site is included in the FHA Eastern Federal Lands Highway Division Design Build Solicitation that will receive proposals on June 11.
Residents who live below the road closure must now access their homes from Route 303. Residents who live above must use Crown Mountain Road – Route 33 to access their homes.
Follow DPW on Facebook @usvidpw and @vitranusvi. People can also log on to  www.vitranvi.com to stay abreast of all things V.I. Public Works.