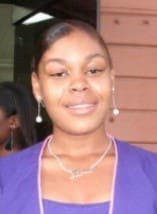 Angelique Hughes died on March 10 in Atlanta.
The viewing will be held at 9 a.m. followed by a service at 10 a.m., Saturday, April 4, at Kingdom Life Church. Interment will be at Eastern Cemetery, Smith Bay.
She is survived by her father, Keithly Hughes; daughter, Tyshonique Belle; son, Tyshown Belle Jr.; sisters: Jenelle Nisbett, Riisa Ortiz and Meglana Ortiz; nieces and nephews: Ju'Niqua Francis, Je'Nicia Stout, Je'Nasia Stout, Ju'Nq Stout, J'Mya Peters, Masai Ortiz, Asia Simone Ortiz and Shamar Ortiz; 30 cousins too numerous to mention; 13 aunts and uncles too numerous to mention; and special friends: Wayne Francis, Daston Anthony, Michael Mobley and Brian Emmanuel.