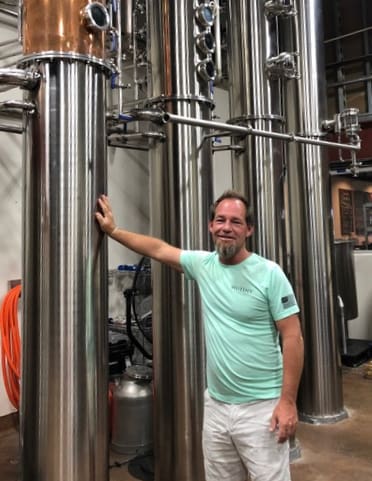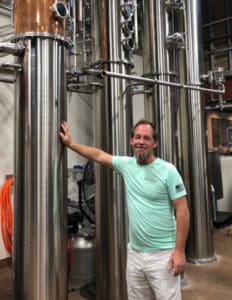 Sion Farm Distillery, maker of Mutiny Island Vodka, has another mission during this time of COVID-19 ­– making an alcohol sanitizer from breadfruit, in case the Virgin Islands government or hospitals run out.
Todd Manley, Mutiny Island founder, said the company's master distiller came up with the idea and distilled the first batch. The company is now using it to clean surfaces and door knobs in their facilities.
"Seeing all the sanitizer off the shelves and the panic that can start, we thought, we're a local business and can make alcohol all day long," he said.
If the need arises, the distillery can produce up to 1,500 gallons a week. Most sanitizer is at least 70 percent alcohol and simple vodka is not strong enough, he said. Mutiny Island Vodka is distilled several times until "it's perfect" and the sanitizer will not be distilled for smoothness or drinking purposes.
"If there's a crisis, we can make a great deal in 24 hours. In seven days, we can make 1,500 gallons," he said.
The other ingredient in the sanitizer is the breadfruit that makes the vodka unique. The first experimental batches of vodka were liked by 30 percent of the people, hated by 30 percent and 30 percent of the drinkers were indifferent, Manley said. So, they continued to blend the liquor until St. Croix residents agreed it was what it should be.
"The entire community got to help us make our product," he said.
It takes 7,000 pounds of breadfruit to make a batch of vodka, according to Manley. If they need to craft a batch of sanitizer, the distillery will be giving fruit growers work and helping the economy.
There are now 3,000 breadfruit trees on St. Croix and St. Thomas with the help of the Trees that Feed Foundation, whose goal is to plant one million trees in the Caribbean region, so there is little risk of running out of the starchy fruit.
Mutiny's sanitizer won't be available to the public, but Ramone Reid is making hand sanitizer, using Mutiny vodka, under her label Cultural Naturals. She uses it in other products also. By next week, hand sanitizer, a surface spray cleaner and a foaming hand wash will be on sale in a variety of sizes at her Company Street store in Christiansted.
"They'll be affordable – I'll keep them economical for our people," she told the Source.
Until they are called into action by the Virgin Islands government, Mutiny Island and its approximately 17 employees will continue entertaining Virgin Islanders, Puerto Ricans, as well as residents of Barbados, St. Martin, Saba, Antigua, St. Barts, St. Vincent and the Grenadines and the British Virgin Islands with drink. Recently, Georgia became Mutiny's first stateside customer.