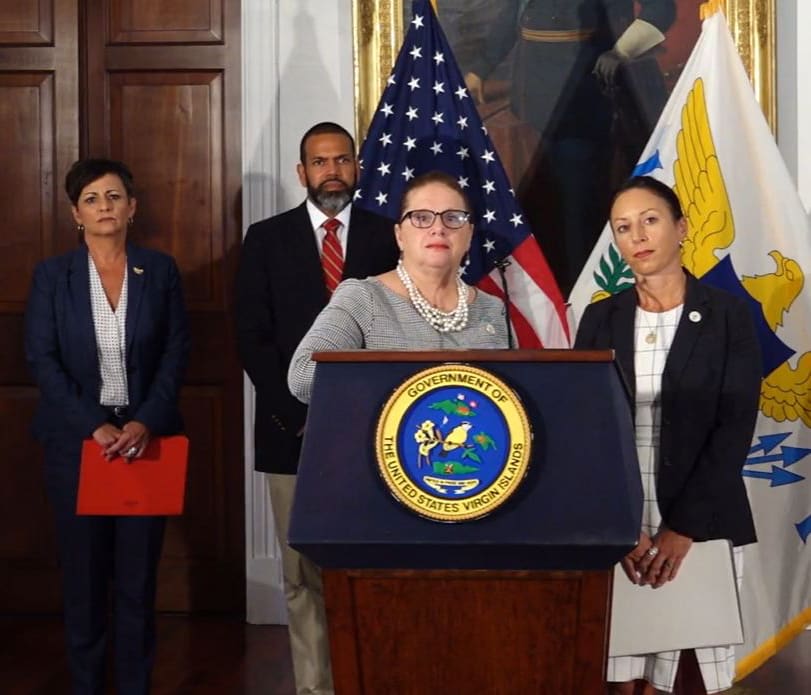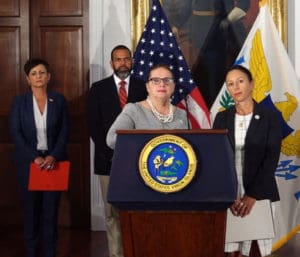 Despite rumors that the coronavirus has hit the territory, health officials said Monday that no cases have been confirmed and that three out of four "persons under investigation" have tested negative.
Also on Monday, Tourism officials expressed concern about a statement from the U.S. State Department urging people to avoid taking cruises, which could impact the local economy.
Meanwhile, the government has established a push notification system for residents looking for real-time updates, which can be found at the Department of Health's website or by texting covid19usvi to 888777.
At this point, officials said they are continuing to distribute information on coronavirus systems, prevention and treatment to health care providers, care givers and day care operators, and are urging the public "not to panic" but rather to arm themselves with facts about the disease.
Asked during Monday's Government House press briefing about the readiness of the territory's two hospitals, Health Commissioner Justa Encarnacion and Territorial Epidemiologist Dr. Esther Ellis said that St. Thomas currently has six to eight beds available, while St. Croix has one but anticipates having 12 more starting March 11 when the intensive care unit reopens.
The department is also providing both hospitals with one tent each. The department received them after the 2017 storms and is working to purchase equipment that create a "negative pressure barrier" that increases their quarantine capacity, Encarnacion said. The tents will be placed close to each hospital to provide patient care if needed, she said.
"We know that we have to secure patients, stabilize them and place them in isolation as they may come and we are working with both hospitals to secure several rooms to properly place them, separate them from others, test them and care for them," Encarnacion said.
Meanwhile, she and Ellis said the government is also working with the U.S. Department of Health and Human Services to transport patients who may need increased care to a secure area outside the territory.
Speaking about precautions being taken to protect the territory's more vulnerable populations, such as children and senior citizens, Human Services Commissioner Kimberley Causey-Gomez said she does not anticipate closing any centers or Head Start facilities at this time. However, residents who are sick are asked not to visit and will not be allowed in if they present symptoms, she said.
Encarnacion added that establishments like restaurants, doctor's offices and hotels will be visited by public health officials who, by sharing more information about the virus, hope to educate employees and make sure precautions are being taken to protect patients, visitors and customers.
Cruise Advisories
While it did not come up at Monday's Government House news conference, the U.S. State Department issued an advisory over the weekend saying U.S. citizens, particularly travelers with underlying health conditions, should not travel by cruise ship for the time being, due to the COVID-19 novel coronavirus epidemic.
Reached by phone Monday, Tourism Commissioner Joseph Boschulte said it is "clearly a concern for us in light of the tourism angle for the U.S. Virgin Islands."
"Ninety percent-plus of our leisure visitors come from the continental U.S., and when I read the release from the State Department yesterday, I instantly got a pain in my stomach, because that was a pretty direct action from them on the cruise field," he said.
Almost 16 million Americans took cruises last year, Boschulte said. So, the impact on the regional economy could be severe if many of them decide to cancel trips.
According to the V.I. Bureau of Economic Research, USVI hosted 1.43 million cruise visitors last year. March is usually a busy month and saw 157,000 visitors in 2019. Summer is slower, but the slowest month of 2019 – September – still saw almost 54,000 cruise visitors.
The Florida Caribbean Cruise Association estimates a single cruise ship call generates around $675,000 in spending, with $415,000 in passenger spending.
"Any time we see a direct potential softening of cruise arrivals, the ripple effect on our economy can run deep. … We are in constant contact with our cruise partners, and if we start to hear about significant cancellations, that means fewer ships or ships with less people, the local impact in terms of spending will also drop," Boschulte said.