The St. John Arts Festival will be celebrating its 20th anniversary next year, continuing to bring to the fore the history, tradition and culture of the indigenous people of St. John in its many forms, including music, dance, arts and crafts according to the festival's website.
The festival opens at 10 a.m. Saturday at the Franklin Powell Park in Cruz Bay, with Caribbean food, arts, crafts and traditional dress on display. Children's events start around 12:30 p.m., including steel pan bands, quadrille dancing and more. There is also a children's art show in the storefronts of various empty offices on the second floor of the Market Place, which continues throughout the following week.
Sunday, Feb. 16, will see church choirs and a new St. John Recovery Choir echoing the indomitable spirit of Virgin Islanders, followed by colorful adult quadrille dancing.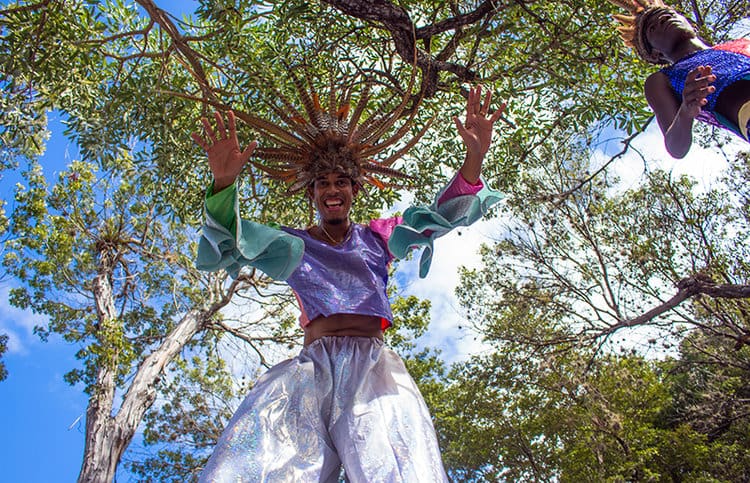 Monday, Feb. 17 – President's Day – is the highlight of the weeklong event, commencing with the music of traditional "scratch band" Koko and the Sunshine Band, with handmade instruments and jaunty songs. Later there will be colorful dancers and a towering moko jumbie.
Tuesday, Feb. 18, will feature music and dance from neighboring Latin Caribbean islands. In the evening, in association with the St. John Film Society, there will be a screening of the award-winning documentary film "Sea of Shadows" at the St. John School of the Arts, which highlights the continued fishing of whales and the threat to their future existence.
Wednesday, Feb. 19, will feature reggae music.
On Thursday, Feb. 20, at 7:30 p.m. the St. John School of Arts will host a screening of a wide variety of films by V.I. filmmakers.
Throughout the week, there will be an ongoing exhibition of handmade Caribbean arts and crafts, plus food and locally grown fruits and vegetables, with the exhibitors in Caribbean traditional dress.