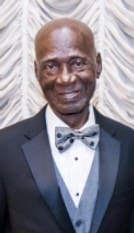 Edwin Desmond Sullivan died on Thursday, Jan. 23.
A viewing will be held at 10 a.m. followed by a funeral service at 11 a.m., Saturday, Feb. 1, at Kingdom Hall of Jehovah's Witnesses.
He is survived by his wife, Victorine Dawson Sullivan; son, Dan Edwin Sullivan; daughters: Linelle Sullivan Gibson and Lorrel Sullivan Penn; sister, Ethlyn Sullivan Wattley; brother, Lionel Sullivan; sons-in-law: Anthony Gibson and Carlyle Penn; countless nieces; countless nephews; and grandchildren: Andrew, Aaron and Ashley Gibson.