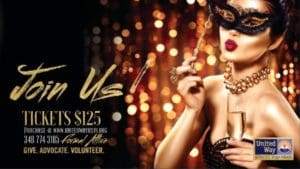 Get ready to "Masquerade the Night Away for Your United Way!" The United Way of the U.S. Virgin Islands will be hosting a "Jewels & Gems Masquerade Gala" Benefit Dinner and Silent Auction from 7 p.m. to midnight on Saturday, Jan. 25, in the Grand Ballroom at the Ritz Carlton-St. Thomas.
The gala will boast a spectacular dinner, dazzling silent auction, live entertainment and a performance by award-winning artist Cruz Rock. The proceeds will benefit the United Way's "Community First Initiative" to establish multipurpose community centers throughout the territory.
The centers will serve as hubs where community members can come together and exemplify how to "Live United." The goal is to provide enrichment spaces for early childhood programs, after-school care, extracurricular activities, senior assistance programs, adult education training and meeting rooms to assist other community groups. They will also serve as food banks with the ability to distribute hot meals in times of need.
This bold initiative will expand the helping hand of the United Way to continue making positive changes in the community.
Tickets for the gala are $125 per person and can be purchased online at www.unitedwayusvi.org/Gala or at the United Way USVI office on St. Thomas at 8000 Nisky Center, Suite 220.
For sponsorship details, silent auction donations, booklet advertisements or to make a donation or volunteer, please contact the United Way USVI team at 340-774-3185 or email [email protected].
About United Way of the U.S. Virgin Islands: The United Way of the U.S. Virgin Islands continues to fight to invest in the health, education and financial stability of the U.S. Virgin Islands. As an established 501(c)3 proudly serving the USVI community for the past 82 years, the organizations commitment to serving the most vulnerable has remained the same since its inception in 1937. The investment in the ever-changing needs of the Virgin Islands' community and the positive impact on Virgin Islanders for decades is a testament to the organizations commitment to affect real change. This impact is driven by game-changing donors, community partners and volunteers territorywide.