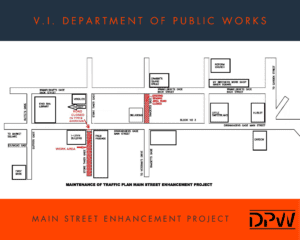 The Department of Public Works has announced that the Main Street Enhancement Project has continued on St. Thomas. Store Tvaer Gade will be closed beginning on the evening of Jan. 7 until further notice. The scope for this phase includes swale reconfiguration, utility service modifications, roadway excavation, running electric cables for streetlights and configuration of existing utilities.
The total estimated project cost is $13,325,162.
Follow DPW on Facebook @usvidpw and @vitranusvi. People can also log on to www.dpw.vi.gov and www.vitranvi.com to stay abreast of all things V.I. Public Works.