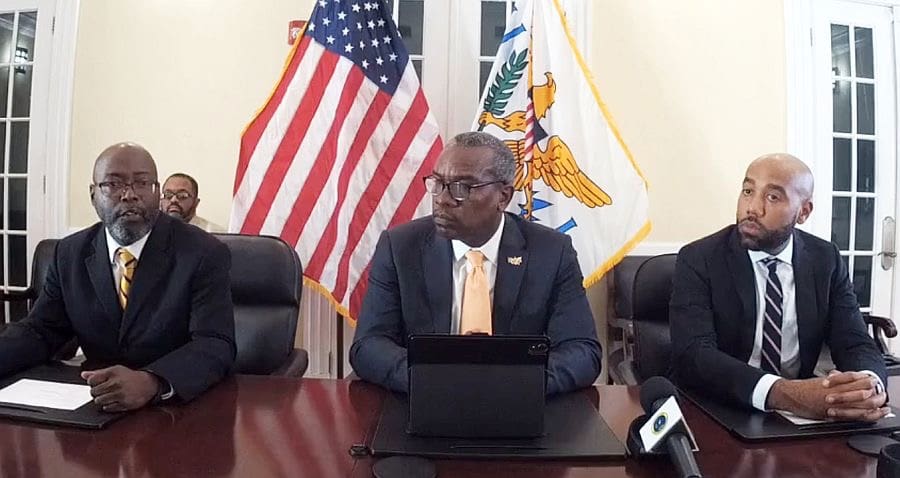 A Government House discussion on holiday safety Monday included the announcement of a mass gathering bill that would look closely at security for events with more than 50 people, and the rollout of traffic stops and spot checks that has so far resulted in the seizure of 15 guns in about two months.
At Monday's weekly Government House news briefing, V.I. Police Commissioner Trevor Velinor talked about a new executive order that allows peace officers working in other government agencies to be reassigned to work alongside the V.I. Police Department through early January.
Velinor said the collaboration with peace officers at different agencies – the V.I. Port Authority, in particular – has helped make the department's ongoing safety initiatives more successful. Since October, VIPD has looked to balance fighting gun violence with cracking down on smaller violations and in the process netted five firearms on St. Thomas and 10 more on St. Croix.
More than 88 tickets have been issued for traffic and parking violations, 15 vehicles have been towed and 17 arrests made overall, he said.
Velinor said on one of the first nights out, officers picked up a federal defendant on parole, who was caught with two firearms.
"Part of what makes us effective is that we are out in the community, part of it is that we are being collaborative and part of it is that we are still focusing on the small things, while also being led by our intelligence, and that is how we can get some of the recidivists – like this one – off of our streets," Velinor said.
In an effort to continue bolstering the efforts of VIPD, Gov. Albert Bryan Jr. said during Monday's briefing that he is "putting pen to an executive order" that would allow for up to 50 percent of local peace officers to be reassigned to VIPD from this week through Jan. 7. This also puts more of a presence on the streets during the holidays, where there is traditionally an uptick in robberies and a high volume of public gatherings and events.
In the same vein, Bryan also announced that he had submitted legislation that will, if enacted, create an in-house board at VIPD that specifically assesses security at "mass gatherings," which he offered as a preventative measure for incidents like last July's shooting at "Floattopia," a public event at Fort Frederik Beach on St. Croix, which left six injured.
"The bill places an emphasis on outdoor events, especially where the area is not secured easily," the governor said, adding that while many events do have some type of security plan, many are not "really thought out for the worst-case scenario."
VIPD personnel assigned to assess and regulate these gatherings will look at factors like points of entry, lighting, how long the event is, how much alcohol will be served and making sure there are officers assigned to the area while the event happening, Bryan said.
The governor said the bill also offers officials the chance to begin a public dialogue about how to resolve conflicts in high energy situations without using firearms, and what the consequences become when guns are involved. While the territory has some of the strictest gun laws in the nation, Bryan said, it's still not a deterrent.
"We don't have a gun store in the Virgin Islands, we don't manufacture guns, yet we still have a lot of them, so it has to be more than just making tight laws, it has to be us educating people, especially young people, about the handling of firearms and the consequences because we do have pretty strict sentences for those found with firearms or ammunition in the territory."