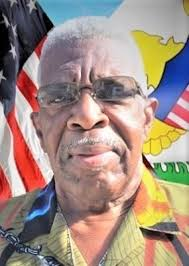 The Virgin Islands Carnival Committee (VICC) will conduct a Carnival Tribute and Memorial Service to honor Kenneth L. Blake, also known as Lord Blakie, at 3:30 p.m., Saturday, Dec. 7. The event to honor Lord Blakie will include a parade from Fort Christian parking lot to the Lionel Roberts Stadium; A tribute segment for friends, family and political leaders; and a Calypso Monarchs tribute, according to a press release issued by VICC.
The tribute service and entertainment will include a large array of Calypsonians from all over the territory and neighboring Caribbean islands, military honor guards, police honor guards, dignitaries, Carnival kings and queens, The Rising Star Steel Orchestra, a kaleidoscope of Carnival Troupes, the Department of Tourism, the Department of Public Works, the Department of Sports, Parks and Recreation, and the members of the V.I. Carnival Committee.
For more information, contact the committee at [email protected] or 473-6910 or 776-3112.