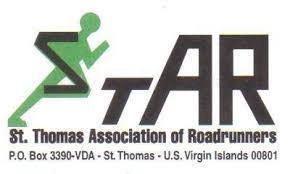 On Sunday, 38 people finished the St. Thomas Association of Roadrunners' (STAR's) Founders' Day 5K walk/run event. Although, for the moment, the male and female course records remain intact, some good running took place over the 3.1-mile course and promising new talent showed itself. This 36th running of the event was co-sponsored by E's Garden Teahouse and Things on Garden's Street, which provided all entrants with running tank-top shirts. The founders themselves provided all finishers with engraved dog tags on pendants.
The overall victor was Kasim Upchurch, a St. Thomian now running at a school in the states. His time of 21:18 put him just ahead of UVI graduate student Daniel Mele (21:29) with Orion Stapleton finishing in 21:47 and Bill McConnell close behind in 21:57.
Repeat past winner of this race and of many other competitive events, Ruth Ann David led all women and most of the field finishing in 21:31. Daughter Shaiah David, who will be seen setting her pace in scholastic cross-country races this fall, was the fastest youth female, finishing in 23:28; Valerie Washington finished second in the over-18 open group in 27:18; Melissa King was just 3 seconds behind. Top-finishers in the senior age-group were Walter Bostwick, Collette Monroe and Cassie Mallory.
The Founders' Day 5K commemorates the original event in 1982 that led to the founding of STAR. Among today's walkers, runners and volunteers were people who had impacted STAR over its history. Most notably Therese Hodge, who now heads STAR, was the women's winner of the 1982 race. Dale Joseph assisted today but at one time held the event's course record under 17 minutes. Finishing today also was Cassandra Mallory, who was then in charge of a downtown retail establishment and is still remembered for having provided gift awards for that first event. Genevieve Plunkett volunteered today but was there from the beginning. With almost 40 marathons under his belt, Vincent Fuller served as a sentry today but had provided competitive class to many STAR races over the years. Participants Al Barry and Roi Simmonds have also been with STAR for several decades.
STAR's next event will be the Kids Back-to-School Is Fun Run scheduled for 3:45 p.m., Tuesday, Oct. 15, on the UVI Golf Course — one week before the start of the 2019 Interscholastic Cross-Country Series. Also, runners and walkers can plan ahead for the M2M 10K and the Kids' Mile at 6:30 a.m. at Magens Bay (www.m2mroadrace.org). For more about the 36th STAR Founders' Day 5K, contact Roy Watlington at [email protected]
These are the complete results:
RUNNERS:
1. Kasim Upchurch 21:18
2. Daniel Mele 21:29
3. Ruth Ann David 21:31
4. Orion Stapleton 21:47
5. Bill McConnell 21:57
6. Antonio Maysonet 22:57
7. Shaiah David 23:28
8. Fay Hsu 26:56
9. Daniel Nicolosi 27:16
10. Valerie Washington 27:18
11. Melissa King 27:21
12. Kirsty Llewellyn 29:16
13. Omari Wade 29:47
14. Jocuarny Herbert 30:28
15. Kim Cole 30:38
16. Ahmad Abdul Samad 30:54
17. Diego Lima 31:25.2
18. Walter Bostwick 31:25.8
19. Christina Sheehan 31:57
20. Kerstin McConnell 32:14
21. Eduardo Carmona 32:33
22. Mida Gaikwad 35:11
23. Jami Pfister 37:17
24. Collette Conroy Monroe 37:30
25. Connor Stahl 39:06
26. Hope Wearing 39:07
27. Raphael Hodge 40:37
28. Cassie Malloy 40:45
WALKERS: (Times are approximate)
1. Martine Nicolosi 50:30
2. Rita Aberdeen 50:40
3. Al Barry 50:43
4. Shernel Osborne 59:42
5. Roi Simmonds 59:47
6. Andrew Capdeville 60:00
7. Katina Coulianos 60:30
8. Gayle Deller 60:40
9. Bannmaal Mortuveen 60:45
10. Semaya Lima 60:50