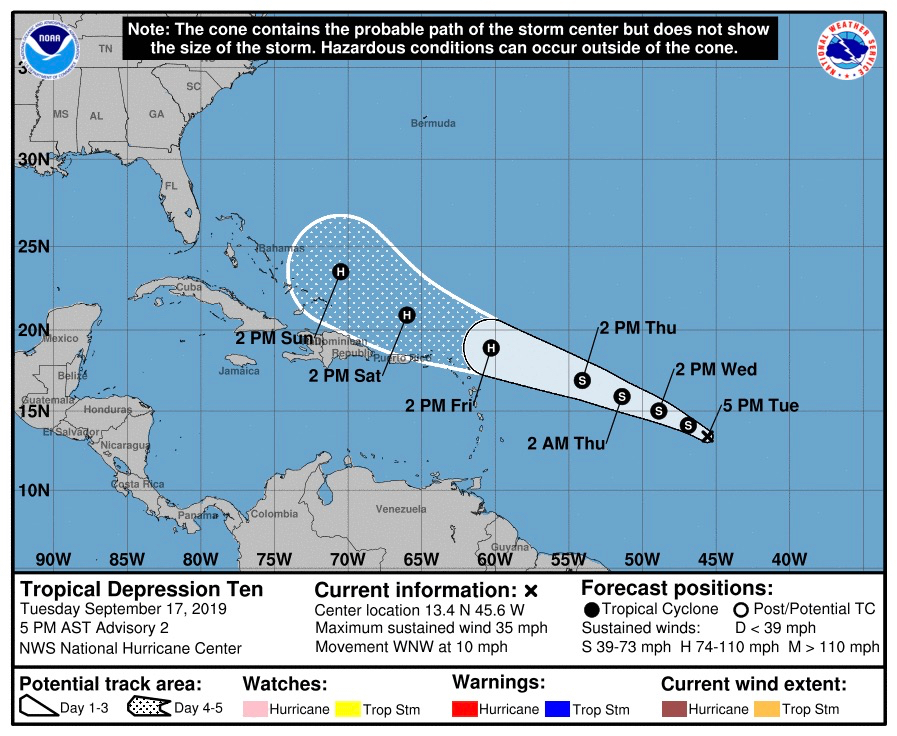 Tropical Depression 10 was located about 1,100 miles east of the Leeward Islands late Tuesday afternoon, and if it maintains its current course and development, should grow to a Category 1 hurricane and pass just north of St. John Friday night or Saturday morning, according to the 6 p.m. Tuesday update from the National Hurricane Center.
The depression is tracking west-northwest at 10 miles per hour with top winds of 35 miles per hour. Additional intensification is forecast, and the weather system is expected to become a tropical storm Tuesday night or Wednesday.
On its projected track provided by the NHC, the system's center will pass about 130 miles north-northeast of St. John on Saturday at 5 a.m. At that time, TD 10 is expected to be a Category One hurricane with top winds of 80 miles per hour. The winds and rains associated with this storm system are not expected to impact the Virgin Islands.
Meanwhile hard on the heels of TD10, a tropical wave is forecast to move off of the west coast of Africa on Thursday. Some gradual development will be possible over the weekend while the system moves generally westward at 10 to 15 mph. The NHC gave the system a 20 percent chance of development within the next five days.
The organization of TD10 changed little Tuesday, with bands of deep convection over the southern and southwestern portions of the circulation. The depression is forecast to move over gradually increasing sea surface temperatures and within a generally low vertical wind shear environment. These factors favor strengthening, and the NHC forecast continues to call for the depression to become a tropical storm Tuesday night, and a hurricane before it approaches the northern Leeward Islands.
The National Hurricane Center urged residents of the Leeward Islands to have their hurricane plan and provisions in place before Friday, and to monitor the progress of this system.