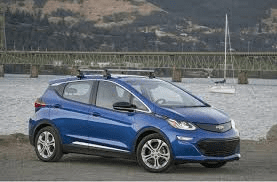 Probably, none of us have ever driven a horse and buggy as our main means of transportation. Around 1900, that was the way people got around. The introduction of the self-powered vehicle, i.e. horseless carriage (many of which were electric) was viewed back then, in much the same way EV's are viewed today. A passing fad, not practical and something that would surely go away quickly.
The reality is: It is estimated there are already over 100 EVs on St. Thomas, so Electric Vehicles are here to stay. Want to learn more about EVs? The first annual St. Thomas Drives Electric event, a part of National Drive Electric Week, will be held Saturday, September 21, from 9 a.m. to 2 p.m. at Market Square East (Cost-U-Less parking lot) offering EV test drives and lots of other information.
Electric Vehicles perform better than gas cars on our steep hills with more instant power (torque) and traction than conventional cars. They need zero motor maintenance, which is why auto dealerships don't want to sell EVs! They never need an oil change, tune-up, valve job, cylinder head gasket, new spark plugs, distributor cap or muffler! With new lithium battery technology, the new batteries will probably outlast the life of the car, according to Nissan.
And as an added benefit, besides having more power up our steep hills, on the downhill, the electric motor automatically switches into an electric generator and recharges the battery as the car goes downhill and assists in braking the car which means fewer brake pad changes. This is called, Regenerative Braking, where the motor automatically switches to a generator going down hills to recharge the batteries and help slow the car down. The steeper the hill the more your battery is recharged.
Charging is a breeze! Most EV's can be charged on a normal household 120V, 20 Amp circuit, at home, overnight, while you are asleep. It takes about 30 seconds to plug the car in at night and then it is ready to drive all day the next day.
You never have to wait in line or look for a gas station. Charging on WAPA costs about the same as gas, but there is no maintenance, so the overall cost of ownership is much cheaper.
Our government needs to develop a Decarbonization Plan to support the large-scale adoption of solar power and build the infrastructure to allow widespread solar-charging to reduce the negative environmental and economic impacts of gas vehicles which increase Global Warming and Climate Change. With solar panels and battery storage EVs can run on sunshine for free!
Editor's note: Doug White, a local architect (Ret.) and environmental activist, has been driving electric vehicles, EVs, NEVs (solar-powered cars and mini trucks) and hybrids on our steep hills on St. John and St. Thomas for 19 years.