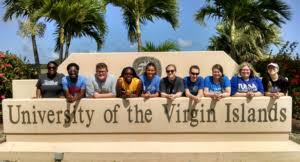 SPA 235 – Spanish for Law Enforcement Course to be offered for Fall 2019 The Department of Modern Languages is offering a new course for the fall of 2019. SPA-235 will be all about "Spanish for Law Enforcement." This course will help students learn how to use a flexible, concise introduction to Spanish grammar and communication to better address and serve those in the law enforcement professions who seek basic conversational skills in Spanish.
Topics include practical vocabulary, everyday on-the-job situations and culture notes (notas culturales) written from a cross-cultural perspective. It provides students with opportunities to apply, in a wide variety of practical contexts, the grammatical structures presented in the corresponding lessons of the VISTAS textbook.
For anyone interested in taking this course, it will be offered Tuesday and Thursday from 4-5:15 p.m. The class has as a prerequisite, SPA 132, and it will be offered on St. Thomas and St. Croix campuses using video teleconference.
For more information, contact Professor Mónica Oizumi at [email protected].
UVI 2019 Fall Semester Orientation Set for Aug. 13-18 The University of the Virgin Islands will welcome new and transfer students with a week of orientation activities beginning Tuesday, Aug. 13, on both the Albert A. Sheen Campus on St. Croix and the St. Thomas Campus. Orientation activities will kick-off with residence hall check-in. All newly accepted students are required to participate in orientation activities prior to the start of the semester.
"We are delighted to welcome new and transfer students to the University as they begin an amazing journey of learning and exploration," said Verna Rivers, dean of students on the St. Thomas Campus. "I urge students to open their minds and hearts to new experiences and to take advantage of the service learning, leadership and other engagement opportunities that will fuel their passion, clear sense of purpose and their capacity to become agents of change."
"I am excited about new student orientation, and always look forward to meeting every student," said Hedda Finch Simpson, dean of students on the Sheen Campus. "I would like to communicate to all the new incoming students that we are elated and ready to orient you into our "UVI Buccaneer Family."
"New Student Orientation Week is an exciting time for our university. It allows our UVI community to showcase the vast opportunities offered and services provided. Our goal is not to primarily serve our incoming students but to truly amaze them," Finch-Simpson said. "Each year, we tinker with our programming to ensure that it's in alignment with a holistic first-year student experience that is informational and memorable. We are genuinely committed to immersing every new student in our UVI Buccaneer Family's pride and tradition," she said.
More information is available in a news release on the Media Section of the UVI website: http://www.uvi.edu/ 
Nominations Being Sought for Awarding of Honorary UVI Degrees The University of the Virgin Islands has established a policy regarding the awarding of honorary doctoral degrees to individuals who have demonstrated outstanding accomplishments. Any member of the UVI administration, faculty, student body, staff or the Board of Trustees may nominate a person to be the recipient of an honorary degree.
Nominations are currently being accepted in the Office of the President and should be submitted in writing via e-mail submission to: [email protected] and must include:
1. A letter of nomination
2. Completed nomination form
3. Curriculum Vitae of the nominee
4. A document that clearly delineates distinguished achievements and the impact of those achievements, including supporting documents (i.e. scholarly documents, magazine articles, newspaper articles, citations for major prizes, etc.)
5. Other supporting documents as may be appropriate.                                                     Please note: Supporting documentation is of critical importance.
A nomination form and the policy approved by the UVI Board of Trustees for awarding honorary doctoral degrees, including a full listing of the criteria, is available.
Nominations will be accepted by e-mail until 11:59 p.m. (AST) on Sept. 6 and for those submitting by hand or by U.S. Postal Service until the close of business on that day.
For more information, email [email protected].
USDA, Local Partners to Conduct Census of Agriculture in U. S. Virgin Islands The U.S. Department of Agriculture's (USDA) National Agricultural Statistics Service (NASS), with assistance from the U.S. Virgin Islands (USVl) Department of Agriculture and the University of the Virgin Islands Cooperative Extension Service (CES), is collecting Census of Agriculture data from all known farmers this summer.
The Census of Agriculture provides the most widely used statistics in the agriculture industry. Typically conducted every five years, it was last collected in the USVI more than 10 years ago due to budget constraints. It is the leading source of statistics about the USVI's agricultural production and the only source of comprehensive, comparable data at the island level. Among other things, the data can be used by local agencies and organizations to provide more effective production and distribution systems for the agricultural community. One of the most important uses of census data is to justify claims of farmers who may suffer damages and losses due to natural disasters, such as hurricanes.
Census data are used to make important local and national decisions that affect U.S. Virgin Islands farmers and their communities," said Hubert Hamer, NASS administrator. "We need to hear from all of our farmers in order to provide the most accurate, most helpful information about agriculture in the islands."
More information is available in a news release on the Media Section of the UVI website at http://www.uvi.edu/
Bookstore Hours on the Albert A. Sheen Campus Extended The Albert A. Sheen Campus Bookstore announces back to school extended hours for fall 2019. See below:
• Monday, Aug. 19 to Thursday, Aug. 23 – 9 a.m. to 7 p.m.
• Monday, Aug 26 to Thursday, Aug 29 – 9 a.m. to 6 p.m.
• Friday, Aug. 23 and Aug. 30 – 9 a.m. to 4 p.m.
For additional information, contact Shay Roberts at 692-4162 or e-mail [email protected].