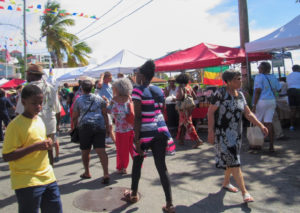 The 2019 St. John Festival Food Fair attracted both residents and visitors to Cruz Bay on June 23 for the wide selection of local dishes and crafts on sale. Guests stepping off the ferry were immediately greeted with the smell of fresh fruit and Caribbean cooking, the sounds of music and revelry, and the Love City hospitality and culture.
Booths began just outside the Cruz Bay Ferry Dock and spread throughout Franklin Powell Park, filling the area between the Morris F. Castro Clinic and the Battery, and stopping just outside the booths of the soon to be opened village.
Leaving the event that afternoon empty-handed seemed nearly impossible, as there were plenty of options to suit varying tastes. Booths offered a variety of local dishes to fill customers' plates, including barbecued or fried chicken, mutton, fried fish, saltfish, cassava, fungi, kallaloo, plantain, conch, lobster, whelks, potato salad, coleslaw, baked macaroni, roti, and so much more. Some vegan and vegetarian options were also available, including pumpkin rice and vegetarian lasagna.
For attendees who did not want to carry a plate of food, several booths offered johnnycake and pate that could easily be eaten while perusing other booths.
Alongside the many flavors of rum and bottles of coquito, attendees could grab a cup of passionfruit juice, tamarind juice, maubi, sorrel, lemonade, or even limeade.
For attendees with a sweet tooth, there was an abundance of cakes, cupcakes, tarts, tamarind balls, tamarind and gooseberry stews, and ice cream to purchase.
Some attendees decided to forgo the prepared food and drink entirely and just buy what the produce, health and wellness products and crafts booths had to offer. Local farmers sold fresh fruit and vegetables as well as saplings that customers could use in their own personal gardens.
Children who attended thoroughly enjoyed the booths with toys and inflatables they could choose from.
Booths located directly in the park had much to offer in clothing, hats, jewelry, wooden figures and artwork.
Food Fair also featured a short program with platform guests including the reigning Festival Royalty and their court, Gov. Albert Bryan, Lt. Gov. Tregenza Roach, Senator-At-Large Steven Payne, St. John Administrator Shikima Jones, and festival committee members Leona Smith, Enid Doway, Kela Brathwaite and Linda Williams.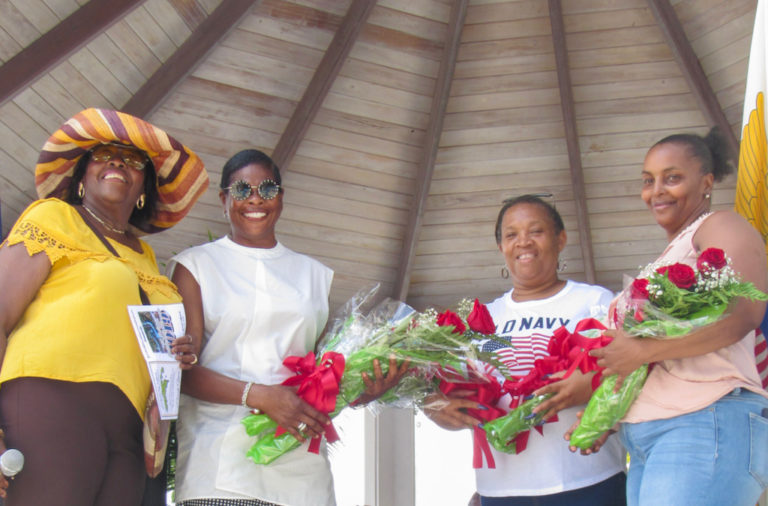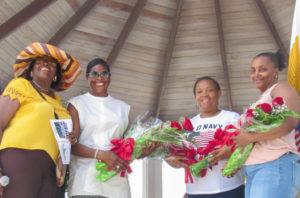 This year's Food Fair Honorees were past and present St. John Festival Committee members, as this may be the current committee's last year playing a direct role in planning and administering the festival.
Mistress of ceremonies Alecia Wells told the audience the intention of the program was "to honor the members who have worked tirelessly to make this happen." Rose bouquets were presented to the present committee members.
Roach had words of praise for the committee members, commending them for their foresight in advertising St. John Festival during carnival on St. Thomas.
"As a member of the Legislature, we always had good reports when the St. John Committee came before the party," he said.
Attendees also witnessed the coronation of the 2019 Festival Royalty, including Miss St. John Festival Queen Lenisha Richards, Junior Miss St. John Festival Tamyra Bartlette, St. John Festival Prince Lemuel Liburd III and Princess Elizabeth Farrell.
Once the program was over Payne grabbed the microphone and stepped down from the gazebo to encourage residents and visitors to purchase the locally made goods. He also interacted with people at their booths and with the friends and family members he picked out of the crowd.
The event also featured performances from the Caribbean Ritual Dancers and Stanley and the Ten Sleepless Knights.
The schedule for the 2019 St. John Festival is as follows:
June 28
7 p.m. Festival Village opens, Cruz Bay Parking Lot.
June 29
6 p.m., the Children's Village, sponsored by the St. John Rotary Club, will open at the small parking lot next to the National Park Ballfield starting June 29.
July 3
1 p.m., Festival Emancipation Program at the Cruz Bay Customs parking lot. St. Johnians are already in rehearsal for the traditional play that commemorates the day of July 3, 1848, when slavery was abolished.
6 p.m., Festival Torchlight Parade, Cruz Bay Customs parking lot.
July 4
Sunrise, J'ouvert in the V.I. National Park.
9 p.m., Fireworks, Cruz Bay Harbor.
July 6
5 p.m., Wet Fete in Frank Powell Park.
July 7
Noon, Poker Run, Cruz Bay Harbor