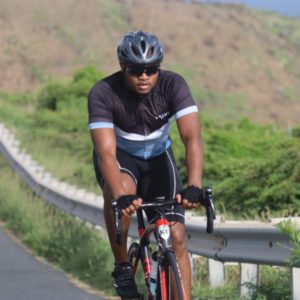 As part of the Virgin Islands Olympic Month events the VI Cycling Federation (VICF) held the Ride to The Rings Road Race on Sunday morning. The annual bike race had a new starting point this year, Cramer's Park, which added a few miles to the already challenging course. Depending on racing categories, cyclists completed one, two or three loops around St. Croix's east end, all finishing at the top of Point Udall. A cash prime was set for the fastest in each category to reach the top of Grassy Point within the race.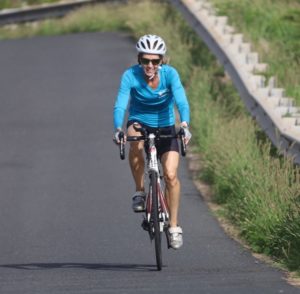 The Elite group started with eight racers and was challenged to, not only three laps of the east end, but also to an additional trip up Point Udall on the second lap. Alex Betancourt, Jerry Remie and Joey Swanson just didn't have the legs for it and bailed after the first lap. Stephen Swanton won the $40 prime on lap two while riding away from Mark Defour, who flatted on the climb.
David Parris made it to the top of Point Udall on lap 2 but "threw in the towel" as he circled the monument. Scott "Moose" Marusa showed his strength on the climbs but lost a little time on the third lap, which put him into a solid third place. Swanton and Defour were 1st and 2nd with finish times of 2:33:23 and 2:34:04, respectively. David Morales closed out the 47-mile race in fourth place.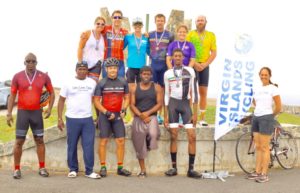 In the small Expert field Dedrick Luikens led the charge up Grassy Point on the first lap and easily earned the $30 prime. He kept his lead in the 29-mile race and finished first in a time of 1:34:49. Robin Seila was second in 1:43:18. Miguel Cruz was third.
The Women and Sport groups started together for their 16-mile race, which included just one lap around the east end. Olani Vanterpool reached the top of Grassy Point first and claimed the $20 prime. He also was the overall finisher of the race, with a time of 58:18. James Meyers was second, and newcomer Amalee Lockhart was third. Megan Lambert showed remarkable strength and finished as the first-place female (2nd overall) in 59:48. Catherine Sequin was second and Laverne Fredericksen was third.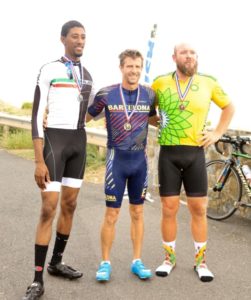 VICF is grateful for the sponsorship it received from the Virgin Islands Olympic Committee (VIOC) in order to host their Olympic-themed race. Snacks and T-shirts were offered to all participants.
The next event on the cycling schedule is the South Shore Individual Time Trial set for 7 a.m., Sunday, June 23. For more information, call 513-2707.
Virgin Islands Cycling Federation Results for the Ride To The Rings Road Race held Sunday, June 9
Start: Cramer's Park; Finish: Point Udall; Course: East End Loop (1, 2 or 3 loops)
ELITE – 47 miles – East end loop three times, up Point Udall on the second loop and finish
1. Stephen Swanton 2:33:23 *Grassy Point Prime Winner
2. Mark Defour 2:34:04
3. Scott Marusa 2:39:04
4. David Morales 2:49:27
David Parris DNF
Jerry Remie DNF
Joey Swanson DNF
Alex Betancourt DNF
EXPERT – 29 miles – East end loop twice, up Point Udall to finish
1. Dedrick Luikens 1:34:49 *Grassy Point Prime Winner
2. Robin Seila 1:43:18
3. Miguel Cruz 1:43:48
4. David Schwind 2:03:38
5. Kelli Schwind 2:04:38
Morgan Theophane DNF
SPORT – 16 miles – East End loop, up point Udall to finish
1. Olani Vanterpool 59:18 *Grassy Point Prime Winner
2. James Meyers 1:01:44
3. Amalee Lockhart 1:03:31
4. Yves Abraham 1:06:00
5. Elvor Narciss 1:09:18
WOMEN – 16 miles – East End loop, up point Udall to finish
1. Megan Lambert 59:48
2. Catherine Sequin 1:03:59
3. Laverne Fredericksen 1:07:08
Angela Cherkis