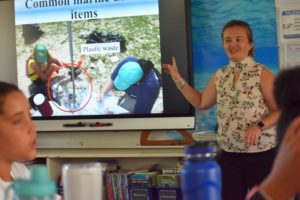 Antilles School celebrated Earth Day with fifth graders and members of the school's Green Team, who involve students across campus in a range of eco-friendly activities.
The Green Team is also active throughout the year in on-and-off campus beautification and recycling projects and was created in 2011 by 5th grade teacher Heather Blum. It currently has a membership of more than 60 students from the lower, middle and upper schools.
A lineup of guest speakers taught the students about everything from organic farming to water filtration.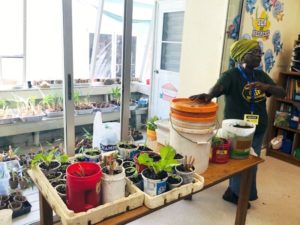 Coastal Zone Management's Education and Outreach Coordinator Kristina Edwards challenged students to take a look at their plastic footprint and determine how much single-use plastic they can cut out daily. Kristina shared the impact of micro- and nano-plastics on the marine environment, along with their possible effects on humans who, in consuming fish and other sea life, also ingest the chemicals and toxins.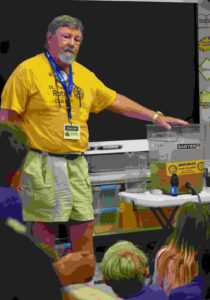 After hurricanes Irma and Maria, approximately 4,000 Sawyer water filters were given away to families across the territory, increasing local access to fresh water. Rotary Club East's Tim Hall showed students how they work, and he encouraged them to be "water warriors" in times of emergencies when fresh water is scarce. One filter, he said, can "feed" up to 35 people for 10 days.
Organic farmer Benita Martin shared the key components of "good soil" and how composting makes for the richest variety. Her best greens were on display as proof, along with her portable composting buckets and earthworms, which increase the amount of air and water that get into the soil.
At the end of the day, 5th graders and Green Team members gifted each of the students with a potted plant of their own. These indigenous seedlings and slips have been harvested over the past few months – many of them taken right from campus – and were distributed throughout the day.