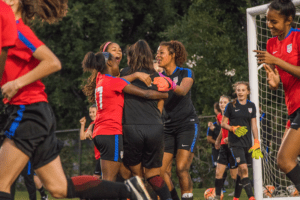 The USVI Soccer Association will hold a Women's National Team Camp from 9 a.m. to 4 p.m., on both May 25 and May 26, at the USVI Soccer Association Complex in Bethlehem. The camp will offer an opportunity for females 14 years and older, who have a valid USA passport, to compete for a position on the USVI National Female Soccer Team.
Young ladies 17 years and younger are being recruited for the U17 team that will participate in a CONCACAF U17 Female tournament scheduled for August. Selections for the senior women's team will also be made in preparation for CONCACAF Olympic qualifiers, which is scheduled for October to November.
To participate in the National Team Camp, the girl or woman must register before May 18 with Coach Lee at 515-302-1208.
Training sessions are currently being held at:
St. Croix: Sundays from 1:30– 3 p.m. at Freewill School. Contact Coach Lee at 515-302-1208
St. Thomas: Tuesday and Thursday from 6:30– 8 p.m. at the V.I. Montessori School field. Contact Coach Eric at 682-560-1346.
For more information, contact:
USVI Soccer Association Office at 719-9707; email at usvisoccerassociation.com; Facebook: USVI Soccer Association