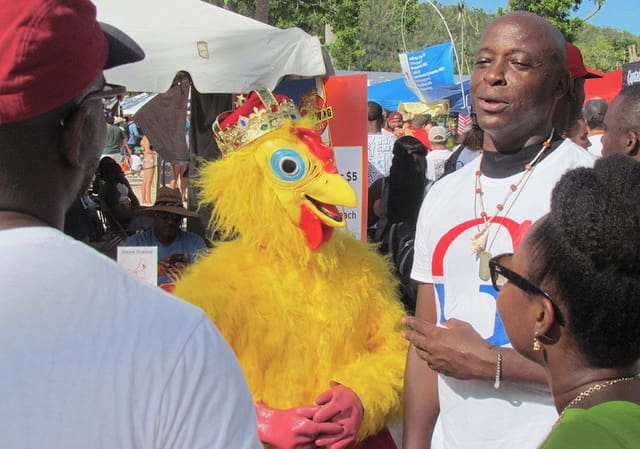 King of the Wing is entering its 10th year with proceeds benefiting Junior Achievement of the Virgin Islands.
The 10th annual King of the Wing contest will take place on Saturday, June 15 on the shores of Magens Bay beach on St. Thomas. Teams consisting of the top local restaurants, businesses, organizations and chicken wing connoisseurs will set up their grills and cooking stations right on the beach starting at noon and ending at 5 p.m. They will be cooking up mouthwatering chicken wings to wow the more than 5,000 attendees and claim bragging rights for the best tasting wings on the island.
Event sponsors Coors Light and Captain Morgan, distributed by Bellows International, will provide support and beverages. On the stage, internationally renowned DJ JSmoke, DJ Dhundee and a surprise celebrity guest will keep the energy and appetites up with their signature blend of party jams.
In addition to being the island's most celebrated and anticipated family-friendly culinary and community event, King of the Wing has grown every year in attendance and number of competitors, and it serves as a crucial fundraising platform for local charities.
Proceeds from this year's event will be donated to Junior Achievement of the Virgin Islands (JAVI), a 501(c)3 recognized organization. JAVI is dedicated to helping young people in the Virgin Islands learn the economics of life and the free enterprise system. Its mission is to inspire and prepare young people to succeed in the global economy.
With dozens of competitors, various styles of wings and the St. Thomas community gathering together to celebrate charity, food, music and fun, 2019 looks to be the best year ever.
If there are questions or a desire to participate, contact Jason Charles or Kelley Ray at 714-2020, email [email protected] or [email protected], respectively.
Presented by Alpine Securities and White Bay Group, King of the Wing is sponsored by Coors Light and Captain Morgan.
For more information: check out Facebook.com/alpinekow, Twitter.com/kowvi or follow the Instagram account @kowvi.