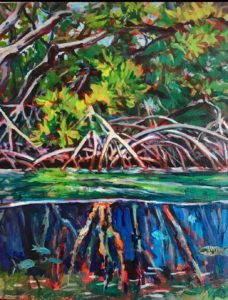 Mango Tango Art Gallery opens The Brenda Sylvia and Heather Hodgeman Exhibitions from 5:30-8:30 p.m., Friday, April 12, with a wine reception.
Sylvia has been showcasing her talent at the gallery for over a decade, while Hodgeman will be debuting her work. The new, original paintings will be enhanced by the original music of The Good Vibes Band.
Brenda Sylvia's love of both nature and the Virgin Islands is obvious in her paintings. Her work captures the natural beauty both above and below the surface. Living in the Virgin Islands has changed the way she sees the world and that's evident in her colorful paintings. The year-round beauty and moderate climate of the Virgin Islands made them the perfect location for a landscape painter who prefers to paint  "en plein air."
Gallery owner Jane Coombes said, "Visitors to the islands, as well as locals, come to Mango Tango looking for her paintings on canvas. She is like our art ambassador. She shines as a figurative artist also, choosing to showcase the splendor of Carnival."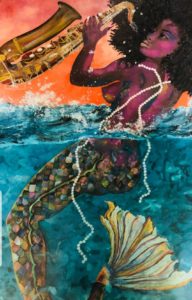 Heather Hodgeman discusses her art process as painting her view of the Caribbean "from the outside looking in." Having moved here four years ago, she said, "This is now my home, where I am amazed by the vibrant colors, the vast sea life, the immense friendliness of the people."
Islanders may have seen another side of Hodgeman's creativity at The Pistarckle Theater where she worked on the head pieces for the children's production of "The Lion King."
Her previous paintings were commissions that she enjoyed, although she notes each one entails "my painterly skills to communicate someone else's story."
Her participation in exhibiting art in a gallery has opened new channels of her imagination in her acrylic on wood paintings that tell her own stories.
Gallery goers can meet the artists at the wine reception while enjoying the sounds of The Good Vibes Band, "the band that puts the VI in Vibes." Chris Kollins, Mick Kollins and James Cobb play a musical elixir of original pop, jazz and soul with a world beat Caribbean groove.
The show will continue for six weeks. For more information, call 777-3060.