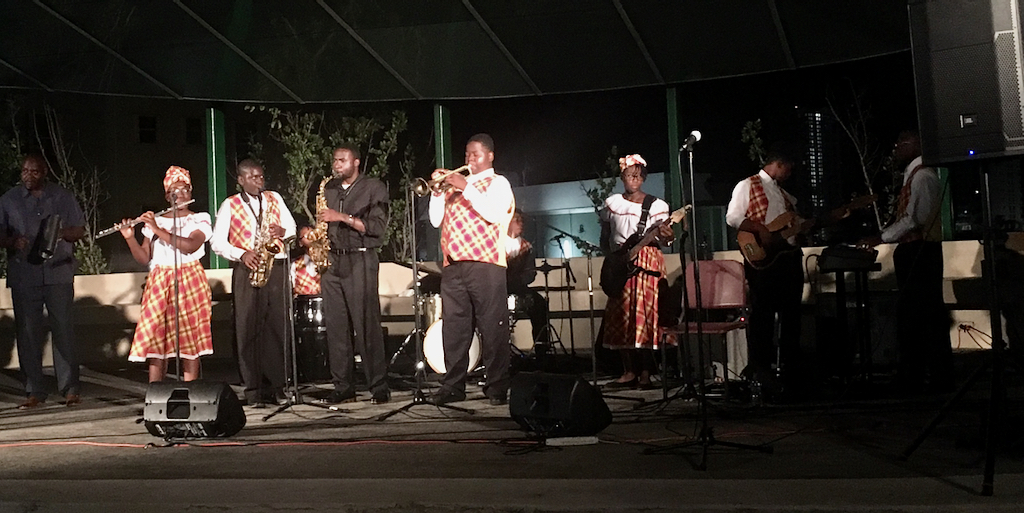 On Saturday evening, the melodic sounds of the Bertha C. Boschulte Middle School Flambo Combo cultural ensemble delighted those who gathered to listen to the outdoor jam session in San Juan, Puerto Rico.
Under the direction of Calvin Jones, the student performers played during the final session of the Puentes Caribeños (Caribbean Bridges), an international symposium on Caribbean art music that was held at the Conservatorio de Música de Puerto Rico from April 4 to 6.
The student musicians from St. Thomas traveled to Puerto Rico to take part in the symposium and learn about the Caribbean region's rich and varied music culture.
Singer and guitar player J'Niya Challenger, a tenth-grader from St. Thomas, wowed the crowd with a beautiful rendition of "Redemption Song" by Bob Marley. All of the students performed solos during the jam session, illustrating command of their instruments, and drawing ovations and whistles from an impressed crowd.
The Flambo Combo is comprised of director Calvin Jones, assistant director Sherwin Williams (banjo, saxophone), eighth grader Aldo Mercedes (bass), seventh grader Darnell Birmingham (vocals and drums), seventh grader Jermaine Jones (keyboard), eighth grader Nathan Bedminister (percussion), eighth grader Jeremy Hodge (saxophone), eighth grader Jae'Quan Lake (trumpet), eleventh grader Rachel Nelson (flute), and tenth grader J'Niya Challenger (guitar).
The symposium focuses on strengthening bonds between composers, performers, artists and scholars throughout the Caribbean and its diaspora. It invites submissions of original pieces of music, papers, workshops, and documentary films. Panel sessions focused on a wide range of issues concerning art music in the Caribbean, and performances included both local traditional music from the participating countries and recently written pieces for the concert hall.