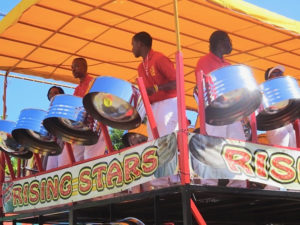 The Superior Court Rising Stars Youth Steel Orchestra will be hosting a summer recruitment program. There will be two Open Houses for parents to pick up applications at the Barbel Plaza Panyard. The summer recruitment remains the source of training new students for membership into the Rising Stars Orchestra.
The first Open House will take place from 4-6 p.m., Friday, May 24; the second will take place from 4-6 p.m., Friday, May 31. Both will be held at Barbel Plaza Panyard on St. Thomas.
Participants must be between the ages of 10 and 14 years and living in the Virgin Islands. Cultural enrichment activities, field trips and rap sessions, along with an end of the summer concert will be included. The Recruitment Camp will commence on June 24 and end on Aug. 2.
For further information, contact the Superior Court at 774-6680 or the Barbel Plaza Panyard at 774-7067.