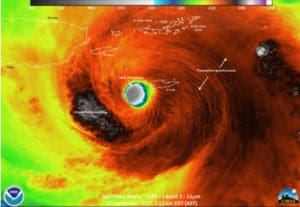 The USVI Storm Strong Program, a free hurricane hazard preparation plan, brings together private and public partners to develop a long-term, high-impact, community-focused hurricane program with $500,000 in funding from the National Oceanic and Atmospheric Administration (NOAA) Environmental Literacy Program (ELP).
"Hurricanes Irma and Maria were devastating storms that fundamentally changed our community. But they also gave us a tremendous opportuni-ty to think about how we can be more prepared for future storms," said project leader Dr. Kristin Wilson Grimes, assistant professor at the Center for Marine and Environmental Studies.
The USVI Storm Strong Program engages middle- and high-school youth and their families in workshops designed to increase their personal abili-ties to be prepared for a major storm. The program launches on St. Thomas in May 2019 and will expand to St. John and St. Croix in later years.
It will "give a voice to children in the territory, by having them think about how to best equip themselves to prepare and cope with the im-pacts of natural disasters, and implement their ideas with their families," said project co-leader Dr. Greg Guannel, director of the Caribbean Green Technology Center.
Resister for the free workshop by April 9.
Middle- and high-school youth and their families on St. Thomas are called to register now for the first program workshop. The free eight- week program will take place from 6-9 p.m., Wednesdays, from May 8 through June 26, at the St. Thomas Recovery Team's offices on Kongens Gade (also known as Education Street). A light dinner will be provided for participants.
In this workshop participants will:
· Discover how their family and community are at risk;
· Learn how to increase their family's and the community's prepar-edness;
· Plan out what to do before, during and after a storm;
· Develop and lead community projects using information gained in the program.
The USVI Storm Strong Program was one of nine new projects funded by NOAA's Environmental Literacy Program (ELP) this year from over 237 applicants. Together, the nine projects — reaching from Alaska to the U.S. Virgin Islands — received a total of $3 million to empower communities to protect themselves from local environmental threats.
These nine new projects join a cohort of 13 previously ELP-funded resili-ence education projects that support the education of K-12 students and the public so they are knowledgeable of the ways in which their commu-nity can become more resilient to extreme weather events and or other environmental hazards, and become actively involved in achieving that resilience.
"We're pleased to support these nine new projects and expand our net-work of partners supporting community resilience through education," said Louisa Koch, NOAA director of education. "Not only will they expand the geographic impact of our work, but just as importantly, they will bring new perspectives and expertise to use informal and formal educa-tion as tools to help people and their communities become more resili-ent to climate and severe weather hazards."
For more information about the USVI Storm Strong Program, visit www.usvistormstrong.org