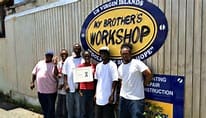 My Brother's Workshop (MBW) will host its annual fundraising event, "Mystery Under the Big Top," which is a night of sleuthing and fun, at the V.I. Montessori School & Peter Gruber International Academy. It is a play that includes the audience as participants. Tickets are on sale now that will be held at 5:30 p.m., Saturday, April 6.
Guests can dress up and take part in the evening's mystery, but they can also just come and enjoy. There will be 20 main characters who will put on the main performance and will give participants clues to see "whodunnit."
There will be prizes for best dressed, best actors and best sleuths, with a grand prize of a boat for 12! Come to have a good time while supporting MBW.