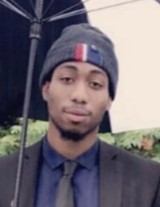 Tresor Wrensford Dies at 22
It is with a heavy heart that we announce the spiritual transition of our beloved son, brother, uncle, nephew, cousin and friend Tresor Wrensford of St. Thomas, who passed away on Feb. 3, in Massachusetts at the age of 22.
He is survived by his mother, Theresa Bougouneau; father, Trevor Wrensford; stepfather, Reda Direny; siblings: Denese Dorival, Dorithea Dorival, Trevere Bougouneau, Kareen Direny, Helita Wrensford, Khann Drigo, Treorv, Gleavorn, Tremari, Trevlon, Trevor Jr. and Te Jay Wrensford; nieces: Dabria Toussaint, Dimarah Bertrand and Ashante Wrensford; grandmother, Melanie Alexander; and aunties: Mayfair Archibald, Melrose Bougouneau, Michelle Lomencoborrea, Yordona Loblack, Kathleen, Louella, Roselane, Julie, Velda, Katrina, Tessa and Dr. Glenda Wrensford.
He is also survived by uncles: Clement Bougouneau, Maynard Bougouneau and Anselm Bougouneau, Victor Ward, Glen Gould, Ivor, Steve, Cordelle, Joseph, Nigel, Henry and Dr. Granville Wrensford; cousins: Malene Liverpool, Malis and Mel Archibald, Nadira Blondel, Cadesha Frederick, Melissa and Dashe Duncan, Millene, Jamoi, Jaquon, Ethan, Jenne, Matthew, Julio, Miguel, Jose Bougouneau, Lee Antoine, Amelia Charles and Jae'Mie Dowe; girlfriend, Jacinda Jones; and close friends: Cedric, Nathaniel, Yhuri, Azika, Leo, Damona and Mariah.
Tresor leaves behind many other family and friends. Tresor leaves a legacy of love for his immediate relatives, especially his mother and siblings.
Our family will celebrate Tresor's life and cherish his memories with a viewing at Turnbull's Funeral Home on Thursday, Feb. 21, from 5 p.m. to 7 p.m.
The second viewing will be at Holy Family Church in Anna's Retreat at 11 a.m. on Friday, Feb. 22, and will be followed by his home-going celebration at noon. Interment will be at Eastern Cemetery in Smith Bay.