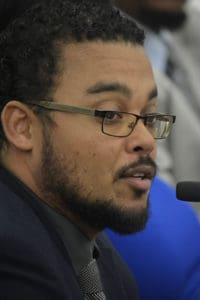 The V.I. Port Authority has been threatened by the Federal Aviation Administration with a $1.4 million fine due to various personnel training deficiencies and issues related to the location of the Anguilla Landfill, VIPA officials told senators during budget hearings Tuesday.
"The issues cited have either been corrected or are being addressed,"VIPA Assistant Executive Director Damian Cartwright said.
Sen. Dwayne DeGraff (I-STT) asked if VIPA was likely to be have to pay the fine. Cartwright said VIPA and the FAA were negotiating but he was "confident that the fine will be waived."
For more than 20 years, the FAA has had issues with potential risks to planes from birds attracted to the landfill, which is very close to the St. Croix airport. Back in 1997 the FAA started an enforcement action, threatening fines and loss of federal funds for airports unless the territory started baling trash and planning to shut down the landfill. (See, Related Links, below.)
The Waste Management Authority oversees the landfill, not VIPA. Several deadlines to shut the landfill have come and gone, although several years ago WMA began baling trash.
WMA currently owes about $16 million in past due payments to contractors running the territory's landfills and wastewater treatment plants. It does not have the funding necessary to close the landfill nor a system for what to do with St. Croix trash once it does close.
Gov. Kenneth Mapp's 2016 bond proposal had partial funding for the closure but the territory was unable to sell the bonds on the private market. The company running the territory's sewage treatment plants announced over the summer it is leaving due to nonpayment. And WMA's management is in turmoil, with multiple recent top-level departures.
Against that backdrop, as the November general election nears, Mapp has given pay raises across the government, promised free tuition to most students at the University of the Virgin Islands, proposed borrowing money to lend part of it to a hotel developer and castigated the soon-bankrupt government pension system for failing to give out Christmas bonuses to retirees before the election.
Cartwright said the storms caused around $85 million in damage to the air and sea ports. Both airports suffered water intrusion and severe damage to their roofs.
Roof repairs at Henry E. Rohlsen Airport on St. Croix should be completed by the end of this year.
The entire roof of the CEKA Terminal is being replaced, with expected completion by November.
Cartwright said 70 percent of the Cyril E. King Airport Terminal's roof replacement is completed, and the whole roof has been "buttoned in" to stop water from intruding for now. The entire 240,000-square-foot roof is being upgraded to a stronger metal and two-ply membrane system. VIPA hopes to finish that work in November, he said.
Among its many other projects, Cartwright said VIPA plans to demolish the former Island Beachcomber Hotel after asbestos remediation, which is currently underway. Once demolition is complete, the developer under contract will be expected to immediately commence construction of a new hotel in the location. Cartwright said that hotel would have around 80 rooms. The project had been delayed for several years due to litigation involving the V.I. Board of Land Use Appeals, he said.
Sen. Janelle Sarauw (I-STT) said she was surprised to hear a hotel was being built when Commissioner of Tourism Beverly Nicholson-Doty and other members of the Mapp administration recently testified there are no prospects for hotels unless the government lends money to help it happen.
"The tourism commissioner sits on the VIPA board and her testimony was there is no hotel being build so we should loan $10 million to Yacht Haven," she said.
VIPA has not finalized its FY 2019 budget, but officials gave estimated figures and updated the committee on work being done to repair the air and seaports after last year's hurricanes.
VIPA projects total spending for FY 2019 at $107.3 million, with $48.2 million for operating expenses; $54.5 million on capital projects and $4.6 million for debt service.
Depreciation will devalue its assets by $19.1 million.
The budget will be funded by:
– $48.7 million in projected revenues derived from operating fees and charges;
– $1.1 million from passenger facility charges;
– $21.1 million from cash revenue and other;
– $274,000 from car rental facility charges;
– $24.3 million from capital grants;
– $121K from renewal and replacement funds;
– $11.2 million from bond proceeds
– and $500,000 in government grants.
Senators were frustrated that VIPA Executive Director David Mapp did not appear and voted to subpoena him to testify. Mapp is on leave. He also recently announced his retirement, effective Jan. 31.
Voting to subpoena Mapp were: Sarauw, DeGraff, Tregenza Roach (D-STT), Brian Smith (D-At Large) and Kurt Vialet (D-STX). Sens. Neville James (D-STX) and Nereida Rivera-O'Reilly (D-STX) were absent.