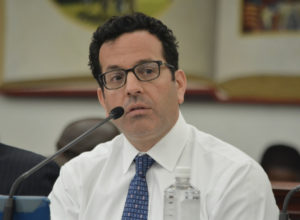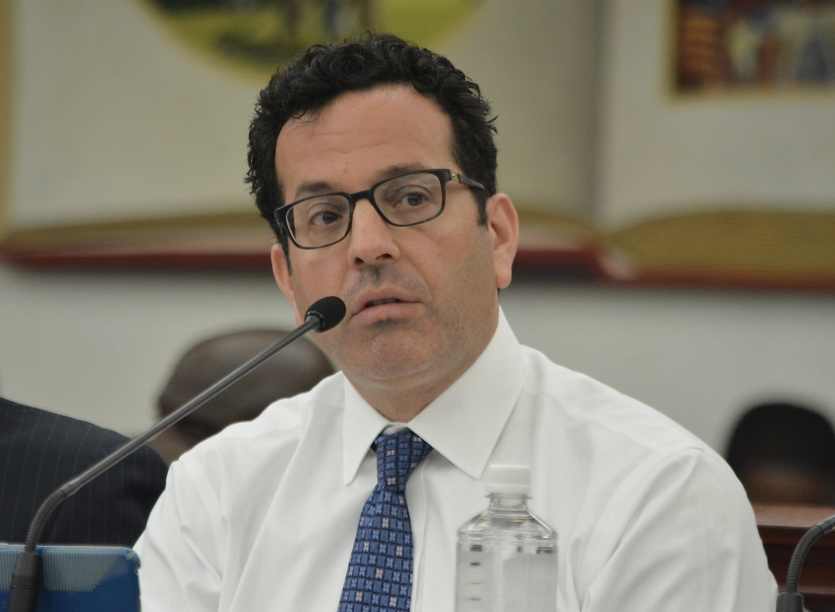 Senators gave a mixed, but largely favorable reception Tuesday to Gov. Kenneth Mapp's proposal to lend developers $10 million to help finance a 125-room modular hotel at Yacht Haven Grande.
Mapp proposed lending for the private development in July. The idea is to borrow $40 million from Limetree Bay, operators of an oil storage facility at St. Croix's former Hovensa refinery. And also sell Limetree Bay some land for $30 million. Then use $10 million of that money to lend to the developers.
Limetree Bay hopes to partially restart the refinery and if they do, the V.I. government would repay with refinery revenues. If not, it would repay by foregoing payments in lieu of taxes from Limetree Bay's oil storage business.
Mapp presented the plan as part of a package of legislation with refinery provisions and changes to the Government Employee Retirement System. July 26 the Senate approved a deal with Limetree Bay, giving the company several more years to decide whether to restart the refinery But the Senate approved the refinery provisions and sent the other proposals for vetting in committee.
Tuesday, meeting as the Committee of the Whole, the lawmakers heard testimony on the hotel lending plan. A vote will occur at a later date.
The territory urgently needs more hotel rooms to help bring in more flights, more visitors and more revenue, Finance Commissioner and Public Finance Authority Chair Valdamier Collens, Tourism Commissioner Beverly Nicholson-Doty and V.I. Hotel and Tourism Association President Lisa Hamilton all told the senators.
"We need more accommodations if our tourism economy is to grow," Hamilton said.
"This is not a subsidy, but an investment. The government's $10 million loan will be secured by a mortgage on the property and assignments of key contractual rights; that means we will get our money back, with interest," Collens said.
Nicholson-Doty listed an array of hotel projects St. Kitts, St. Lucia and the Bahamas have begun, warning the U.S. Virgin Islands needs to compete or lose out on tourism.
If successful, the hotel will generate jobs and tax revenue, Collens said.
Attorney General Claude Walker said if the hotel defaults on the loan "the government will be entitled to foreclose and sell the property to a new developer."
The territory has loaned to hotel developers in the past.
In 1995, the PFA loaned $3 million to Development Consultants to renovate the King's Alley area of downtown Christiansted. The PFA acquired the 21-room hotel in 2001 after Development Consultants defaulted on what had grown to $4.3 million. It invested several million more dollars to try to eventually sell it for a profit. Seventeen years later, PFA still owns the King's Alley Hotel.
In 2009, GERS loaned Carambola Hotel and Resort $15 million on a 10-year note, for renovations. The owners defaulted and GERS has owned Carambola since 2012. It has tried without success to sell it. (See "GERS Starts Sale Process for Carambola Beach Resort" in Related Links, below.)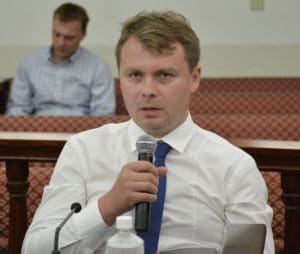 Tuesday night, Collens said the proposal came about after Yacht Haven Grande's owner, Island Global Yachting, approached the government for help in 2017, Collens recounted. IGY had $8 million and Polcom, a Polish modular construction company, had $20 million, but they needed another $10 million to complete the project and were unable to borrow on the private market at rates low enough to turn a profit, Collens said. IGY Chief Executive Officer Thomas Mukamal and Polcom CEO Lukasz Slominski also confirmed they had $28 million and were unable to borrow. Mukamal said lending became scarce after the 2008 worldwide financial crisis.
The project is a chance for Polcom to expand its modular construction system into the Caribbean, Collens and Slominsky said.
The loan would be very low interest, paying interest only for 10 years with a single balloon payment at the end. During construction, IGY would pay 1.5 percent annual interest. Once construction is complete, IGY would pay four percent annual interest. All told, Collens said the government would collect more than $3.6 million in interest over the 10-year span. Also the government would get five percent of the hotel's annual net cash flow, after payments for debt service and reserves.
Some senators were clearly in favor of the plan, while others were more ambiguous and one or two appeared dubious.
"If you look at this agreement and all the pros and cons of it … I don't see much of any cons, mostly pros," Sen. Marvin Blyden (D-STT) said.
"This is a small investment for a perpetual return," Sen. Brian Smith (D-At Large) said.
"If we want to get left out of the race for competition, let's keep thinking $10 million is a lot of money compared to what the return could be," Smith added.
"We have outstanding debt obligations. To just loan $10 million is something we really, really have to think deeply about," Sen. Janelle Sarauw (I-STT) said.
Sarauw asked about the rates for the rooms. Mukamal said the average daily rate would be slightly over $200, fluctuating by the season. They are assuming the rooms will have a 65 percent occupancy rate over the course of the year. At that price and rate, 125 rooms would generate $5.9 million in gross revenue and $676,000 in hotel room taxes per year, or $6.8 million over a decade; slightly less than the "more than $8 million over the first 10 years of operations" Collens projected.
St. Thomas had an overall hotel occupancy rate of 61.2 percent in 2015, the best rate of recent years, according to the Bureau of Economic Research's website. In 2016 the St. Thomas rate was 59.9 percent. In 2017, after the storms, it had 40 percent occupancy.
Sen. Myron Jackson said he did not believe many Virgin Islanders strongly opposed a new hotel.
"The question being asked is why the government is investing $10 million," Jackson said.
Present at the oversight hearing were: Blyden, Jackson, Sarauw, Smith, Sens. Jean Forde (D-STT), Novelle Francis (D-STX), Neville James (D-STX), Janelle Sarauw (I-STT), Kurt Vialet (D-STX). Dwayne DeGraff (I-STT) and Tregenza Roach (I-STT). Absent were Sens. Nereida Rivera-O'Reilly (D-STX), Sammuel Sanes (D-STX), Positive Nelson (ICM-STX) and Alicia "Chucky" Hansen (I-STX).
Correction: This story originally incorrectly stated the most recent year of occupancy data available at the Bureau of Economic Research. More recent information, through 2017, is available in a different location on BER's website.