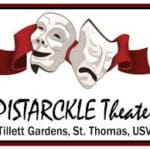 There is reserved seating for season subscribers only. For all others the cost is $25 for adults and $15 for children; general seating advanced ticket sales are suggested. http://www.pistarckletheater.com/subscribion-packages/
"Dreamgirls" — Oct. 11-27, 2018
"Arsenic and Old Lace" — Nov. 15 to Dec. 1, 2018
Actor auditions are scheduled for 6 p.m., Sunday, Sept. 16, at Pistarckle Theater in Tillett Gardens.
"Nutcracker" — Dec. 13-23, 2019
"Evita" – Feb. 14 to March 2 2019
"Doubt" — March 21-31, 2019
A new play by a Virgin Islands playwright — May 2-12, 2019
Online ticket sales will open soon. Meanwhile, people may purchase tickets by calling Pistarckle at 775-7877.
Pistarckle Theater will host the St. John-St. Thomas Chamber After Hours from 5:30-7:30 p.m., Thursday, Sept. 27. The evening will include the Chamber Famous $3 drinks, special offers on season subscriber packages, door prizes for tickets to upcoming plays.
In January 2019, the theater will offer another 'Pistarckle After Dark" Whodunnit Murder Mystery Theater, written and directed by local author and actor Julie Baber.